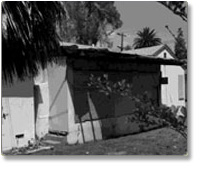 Years from today, if the Long Beach (710) Freeway extension gets built and weary adversaries can forgive and forget amid the inaugural-day hoopla, they may agree that a single helicopter ride revived a juggernaut going nowhere.
It was in April 2002 that Metropolitan Transportation Authority chief Roger Snoble and other public officials were taking a cloud-level look at the northbound movement of goods through area gridlock when the copter flew over the spot where the freeway system's missing link was supposed to be — during the Nixon administration.
Snoble, a trained urban geographer, quickly grasped why the connector has been bogged down in the courts and file drawers as one of the nation's most epic public works impasses. To clear the roadway's path for the concrete pourers, row after row of houses in tightly bunched neighborhoods that thousands call home would have to be bulldozed into oblivion.
Freeway warriors on both sides of a the great 710-extension fight that has been waged in trials, on the street, through elections and inside cyberspace believe that neighborhood demolition would be a media spectacle hard to imagine. Shortly after his aerial tour, Snoble met with California Department of Transportation Director Jeff Morales to discuss the 710's future, both of the men relatively new to their jobs. Morales was blunt.
"He asked," Snoble recalled, "if we could be involved in getting this thing done or deciding whether it was a dead issue."
Pondering that challenge, Snoble huddled with his engineers at MTA headquarters. What they concluded was nothing short of dramatic. The extension did not have to be a trenched artery with decked "cut-and-cover" tunnels over interchanges — a design that South Pasadena and others believe would shear communities in two. A pair of tunnels burrowed deep under the same path, relying on advanced mining and building techniques applied around the globe, could give opposing partisans what they each wanted but never could nail down.
Instead of clogging Alhambra surface streets by the tens of thousands every day, motorists finally could traverse the 4.5-mile breach between the Long Beach and Foothill (210) Freeway 160-feet or more below grade. Diverting that north-south traffic underground would spare roughly 80 percent of the 1,142 homes and properties that would be destroyed or relocated under Caltrans' current plans. As the proverbial cherry, many tenants in state-owned properties along the route in northeastern Los Angeles, South Pasadena and Pasadena would be freed up to purchase their dwellings. Sale proceeds would help finance the highway's construction.
"When I first looked at the drawings, I said why do cut-and-cover, it's crazy," Snoble said. "Things are different these days. I asked the experts on staff to see if there were any (technical) showstoppers to the tunnel. They said it was very feasible."
During the last five months, Snoble has outlined his $1.4-billion idea as a preliminary "paper-napkin" concept to various city councils and others, mostly to mixed reactions. But just the fact it was trotted out was a significant step behind a captivating question.
Did Caltrans allow the county Metropolitan Transportation Authority to present the tunnel-scheme as a piece of engineering bravura that could untie the stalemate, an admission the 710-gap closure as presently conceived is dead or both?
The answer may be unknowable. The evidence isn't. Ten key officeholders and observers contacted by the Weekly say that the legal, financial and community obstacles blocking construction has led top Caltrans officials to privately conclude the estimated $1.1-billion trenched-roadway is virtually un-buildable. This thinking has purportedly been laid out in an "exit strategy" white paper, the existence of which has taken on the murmurings of urban myth.
A new way
Caltrans' formal position is that they support exploration of the tunnel, but remain firmly committed to the "Depressed Meridian Variation," as approved by the federal government in 1998. Anything other than that would require extensive new studies, hearings and public endorsements that Pasadena City Councilman Steve Madison likened to "proposing a whole new freeway." To bolster their case, freeway supporters note that Caltrans this year is seeking more than $40 million from MTA for design work for the Meridian way.
Even so, Doug Failing, the Caltrans director in charge of the 710-area, said Morales told him what he told Snoble and the region's top planning executive: craft a consensus solution.
"The problem is that because the issue has been polarized for 40 years, no transportation improvements have been done," Failing said. "The tunnel concept is an interesting idea, but our question to Roger [Snoble] and the region is whether the region supports it."
Alternatives to the Meridian route, named for one of the streets it follows, have leaked out. Members of the pro-extension 710 Freeway Coalition, for example, grew alarmed last year when they saw documents discussing options and asked Assemblywoman Judy Chu, D-Monterey Park, to flesh it out.
"It seemed Caltrans was trying to get out of building the 710," said Chu, adding she believes a tunnel would a "far better, more humane" solution than a surface path. "I talked directly to Jeff Morales and he vehemently denied there was an exit strategy." The man who chairs that coalition, public relations handler Nat Read, refused to reveal details about that nail-biting document. Today, he might be one of the last optimists for the Meridian route being dug.
"People ask me if the fight is over and I say no," Read said. "We are so much further ahead than we were three years ago" because of so many pro-freeway state lawmakers. "It's still South Pasadena against the region."
Whether the tunnel is an exit strategy, pragmatism or a red herring, something is clearly happening. Rep. Adam Schiff, D-Pasadena, has requested $3 million in federal funds for a tunnel development study and $5 million to examine its environmental impacts. In an interview, Schiff said Snoble and the head of the Southern California Association of Government (SCAG) approached him about the tunneling alternative in the hope that "the elusive common ground might be underground."
Initially, both sides of the freeway war were doubtful about the subterranean option, Schiff said. The anti-extension crowd worried the tunnel idea was a "bait-and-switch" ploy that Caltrans could use to secure funding for the surface route. Freeway advocates viewed it as a possible filibuster. (Caltrans had rejected a tunnel during late 1980s mitigation studies, where old-style tunnel techniques drove cost estimates to $3 billion to $4 billion.)
"The intriguing thing is that while both sides were skeptical, they were both very interested," Schiff said. "And Caltrans was ready to throw up its hands there wasn't community support" for its approved plan. "The budget picture is so bad that finding big transit dollars for projects with litigation and controversy is just not appetizing." Dollars and suits
For the foreseeable future, the county's number one uncompleted highway project has a courtroom zip code. South Pasadena's flagship lawsuit charging that Caltrans' plans shortchanged them on environmental and historic-preservation safeguards remains on hold in federal court. Attached to that suit is a stiff injunction against significant freeway work.
A related state lawsuit is gearing up for trial in downtown Los Angeles.
Meanwhile, a 1997 class-action, environmental-justice case brought on behalf of El Sereno residents alleging that Caltrans denied them the same trenched design being planned for wealthier, whiter Pasadena and South Pasadena is also pending in federal court. No hearing date is set.
Interestingly, the city of Alhambra tried to intervene in the case. The grounds: Caltrans was not pursuing the spur as vigorously as it should be, and was floating less ambitious plans, such as a truncated extension between Valley Boulevard and Huntington Drive. The district court rejected Alhambra's bid. The city is appealing.
"Thirty years of studying something and not moving it off the plate is not good public policy," said Lee Dolley, the former Alhambra city attorney who still represents the city in private practice. "The fact this is a state-adopted route means people shouldn't be sitting on their hands. If the tunnel is something that everyone can rally around, we think they should do it. But make no mistake. We will push for a freeway." Many wonder if there will be any money to push back. State and federal budgets are smeared in red ink that will likely last for years. At the California Transportation Commission, bankrolling the extension is off its radar screens. Federal interstate funds doled out by the commission would probably finance 90 percent of the pathway.
"We are having statewide fiscal issues right now, and even if we weren't the question is whether it's a high priority for MTA," said commission Deputy Director David Brewer. "It's almost ironic there is all this local controversy about the project, but nobody has asked about the money."
County transit agencies, under local-control legislation by former state Sen. Quentin Kopp, I-South San Francisco, act as both bankers and arbiters for Caltrans projects within their jurisdictions. Even though the gap-closure is a state project, the MTA controls 75 percent of the money. And, because of the lawsuits and community opposition, the spur isn't part of the nearly $2 billion worth of freeway improvements currently underway. It sits instead on a lengthy wish list of un-funded ideas in the MTA's long-range plan.
After sizing up the project's uncertain future, Gov. Gray Davis was said to be considering in late 2001 or early 2002 announcing the he was withdrawing his support for the cut-and-cover route, but backed off for unknown reasons. A confidante to Davis said the governor told him three years ago it was "highly unlikely" the Meridian pathway would ever be built. This source believes the tunnel is either the grand solution or the Caltrans escape hatch from a surface route too unpopular to ever be jack hammered.
Another longtime observer, Antonio Rossman, South Pasadena's private attorney, says it's only a matter of time.
"Caltrans has been looking for a way out," he said. "Can they do that and make peace with the labor unions and Alhambra? That's the question."
A spokesman for Davis said the governor is waiting to see what freeway choice the community backs.
Digging deep
MTA's vision is for twin tunnels built in each direction 160 to 180 feet below ground level. Each would hold three mixed-flow lanes and one for carpools. Going subterranean would "significantly" reduce construction impacts, noise and car-generated pollution and eyesore aesthetics of freeway concrete, according to an MTA fact sheet. Officials have tinkered with charging $1 per vehicle using the route during rush hour — a sure-to-be-provocative idea that would generate $12.5 million a year.
Urban road tunnels measuring a half-mile long and longer are in place in 15 cities around the globe, including Boston, Paris, Rome, Munich, Moscow, Hong Kong and Singapore. For the 710-gap, a "closed-face" tunneling machine would be used to excavate. A serrated, disc-shaped shield connected to slurry pipes would first trowel the earth. A pumping system would then cement the tunnel wall in place, preventing the structural problems experienced along the Metro Red Line subway route in Hollywood in the mid '90s.
Each tunnel would have a 55-foot diameter, roughly two-and-a-half times larger than a subway tube. The tunnels would need numerous connecting passages for emergencies and a latticework of vents and circulators to expel dangerous automotive fumes and smoke.
At $1.4 billion or more, the tunnel alternative could end up being much costlier than a trenched roadway — a differential that Schiff said wouldn't be as large as some believe.
Engineers would have to grapple with water-table problems near the Pasadena/South Pasadena border, as well as seismic considerations from the Raymond Fault, a slip-strike fault that runs east to west, roughly paralleling Pasadena's share of the Harbor (110) Freeway. The city of Pasadena's Arroyo Seco Master Plan identified the Raymond Fault as one of three faults capable of producing intense shaking. So did a March 2000 geo-technical study that Caltrans commissioned about the cut-and-cover tunnels.
MTA officials, though, contend that modern tunnels are designed robustly enough to survive strong earthquakes and hairy building conditions. A 2.5-mile segment of the Red Line, they point out, was dug through the Santa Monica Mountains without incident. Still, the underground roadway would be nearly double that length, and longer than anything like it in the western United States. Given the economic benefit of a connector — MTA estimates lost time at $261 million a year — USC professor and transit expert James Moore considers the tunnel worth exploring.
"We've managed to squander considerably more on considerably less," he said. "Investments in road tend to pay off. If I were the head of Caltrans, I'd have to ask myself if this could ever get built" as presently conceived. "There has been precious little progress."
A lot to manage
Whatever happens to the Meridian route, nobody is going to walk away from doing something about depressed traffic speeds or the 1,320 annual tons of car-generated smog by the missing Long Beach Freeway-Foothill (210) Freeway link. Turf and political angles also hover, as do the Southland's effort to meet the federal Clean Air Act.
"If we are going to modify our changed course, it must be done in the regional transportation plan," said Mark Pisano, SCAG executive director. "It's not a unilateral Caltrans decision."
Much of the debate, said both Snoble and Pisano, hinges on what happens with the 587 properties Caltrans already owns and the 555 parcels it will need to acquire along the corridor. This is where an underground pathway sports gigantic advantages. Less demolition means less uproar.
Stymied from highway building, Caltrans has been forced into being a long-term property manager on the houses it bought decades ago via eminent domain. The agency, which acknowledges playing landlord is not its forte, has been hammered in recent years for slapdash, oft-inconsistent policies.
As the Weekly has reported, Caltrans rentals have tumbled into a state of perpetual neglect that has triggered audits, lawsuits, health code violations, a rent-increase controversy, bizarre crimes and cries of Caltrans being a state slumlord. A quarter of the department's parcels are either too shabby to rent, languish as weed-strewn lots or aren't needed. Tenants who complain say there are often harassed or receive eviction notices.
Reacting to those stories and her own findings, Assemblywoman Carol Liu, D-La Canada-Flintridge, is planning to hold a local public hearing this summer about the housing situation. Suzanne Reed, Liu's chief of staff, said a number of state lawmakers have expressed growing interest about yanking property responsibility out of Caltrans' hands.
Silver bullet
A deal for a palatable extension will certainly save the small cities along the route from spending on outside help to ply their interests.
Alhambra, which gets clobbered daily by the traffic that pours onto Valley Boulevard from the current northern terminus of the 710, has spent between $1.5 million to $2 million since the late 1980s on lawyers, lobbyists and consultants.
One of those on the Alhambra payroll was Richard Alatorre, the former Los Angeles City Councilman whose district included El Sereno. He had a one-year, $50,000 contract for assisting city's the freeway litigation — a pact that ended about two-and-a-half years ago. It was about that same time that Alatorre, once one of the most powerful Latino politicians in the state, pled guilty to felony tax evasion for accepting $42,000 illegally given to him to steer his official decision-making.
When the conviction was disclosed in 2001, the Compton Community College District and the Los Angeles Department of Water and Power scrapped their consulting contracts with him. Alatorre by then had left office and was on probation. But Dolley, Alhambra's attorney, said Alatorre's criminal record was unrelated to the decision not to renew him.
"The contract simply ran out," Dolley said. Because of federal rules for pending litigation, Dolley said he could not detail what role Alatorre played. For its part, South Pasadena has spent $3.1 million on outside assistance on freeway matters since 1989. Lumped in there is a $5,000-a-month consulting contract awarded last summer to former ranking state Assemblyman Mike Roos. He proffers advice on the 710 and a few other issues.
South Pasadena mayor Mike Cacciotti, himself a former Caltrans deputy attorney, said the city is taking a "wait-and-see approach" about what the tunnel studies turn up. He doesn't believe the economics or legal situation will ever allow the surface-route to happen.
Cacciotti thinks the transit equivalent of a Middle East peace pact could flower if the underground path is solidified, noting that elected officials along the route are talking more today about a solution than they ever have. "If there's an alternative that could address all the cities concerns, this may be the silver bullet." . Since the construction, rats unloosed by a hole in the wall the contractor didn't patch have been scampering through her kitchen. She called Pasadena officials, who in turn alerted Caltrans.
Week 1: Corridor of Shame—No Exit
Week 2: The Untouchables—Corridor of Shame
Week 4: Legislature needs to take control of Caltrans
Week 5: No Place Like These Homes—Corridor of Shame
Copyright Chip Jacobs