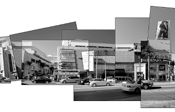 The people who developed the flashy, $600 million Hollywood & Highland entertainment complex rolled the dice when they decorated the main courtyard. Riffing on the classic 1916 film "Intolerance," they set down a pair of enormous white elephants atop the pillars, trunks braying skyward, and hoped the ornamental pachyderms didn't come back to bite them.
But the times, and some poor decisions, have turned the beasts against their masters. Less than two years after its premiere, the flagship development many hoped would resuscitate one of the world's most famous intersections has lost two-thirds of its initial $595 million paper value and is now currently valued at a limp $194 million. Trizec Properties, the Chicago-based real estate trust that owns the complex, has taken its project off the auction block to "stabilize it" and avoid having to unload it at a firesale price.
Clubbed by the media for the $90 million subsidy the city sunk into it, caught off-guard by the tourism wipeout of the post-9/11 world, and plagued by an unorthodox design, the mall-theater-hotel-plaza has shown some promise of late. Retail sales are expected to finish the year 10 percent higher than last year, when the collective take rose to about $300 million. Nonetheless, backers are on the defensive. City officials, for example, contend it's remarkable just to have a building of any kind standing there, when so many other high-concept proposals for the corner never got off the drawing board.
"The catalytic effect is real – we get development proposals now all the time for Hollywood Boulevard," said Josh Canesky, spokesman for Councilman Eric Garcetti, who represents the area. "Look at Third Street Promenade and Old Pasadena. Nothing lands fully formed like Athena emerging from the head of Zeus. For the revitalization of Hollywood as a global place, Hollywood & Highland has fit very nicely into that vision."
Trizec executives have now retooled their strategy. They have gone after more brand-name retailers and hired a group to perform a rock-opera to lure in nighttime crowds. They have launched free shuttles to the nearby Pantages Theater, and offer $2 parking.
Most notably, they have switched their focus from tourists to native Angelenos looking for an edgy, urban outing. "What we see as the evolution of Hollywood & Highland is as a destination for the burgeoning east side of L.A. – La Brea, Los Feliz, Hancock Park, Studio City," said LeeAnne Stables, chief marketing officer for the Trizec Retail and Entertainment Group.
Calling it "self-inflicted pain" created by pre-opening promotion, Stables said the curious were disappointed when they trooped there expecting to find a traditional mall.
"This is a very different place," Stables said. "We have four kinds of businesses colliding here. It's outdoors. It's vertical. There is no anchor department store. The idea that this is an entertainment complex is hard to explain at cocktail parties. But nobody calls Universal CityWalk a mall."
Financially, the city had to roll with those changes. Under a deal smoothed by former Councilwoman Jackie Goldberg and ex-mayor Richard Riordan, the city bankrolled two critical components at Hollywood & Highland via bonds: the project's $60 million, 3,000 space parking garage and the landmark $30 million Kodak Theater, which has hosted the Academy Awards and similar shows (but little else so far).
With mall crowds down, the city has had to cover the difference between parking-lot expenses and revenues. Last year that amounted to a roughly $500,000-a-month subsidy. This year, with retail traffic up some, it's dropped to about $300,000 per month. For years, city redevelopment officials had tried unsuccessfully to find a deep-pocket developer willing to take a chance on this northwestern corner. In the early 1990s, a group led by Texas's wealthy Bass brothers pulled out when it couldn't get a $50 million redevelopment subsidy. The current complex's flamboyant design, a semi-pinwheel shape with vaulting staircases and neon flourishes, was expected to refashion the area's seedy reputation into an invitation for developers and dreamers.
The site, however, has had a run of bad luck. Even before the ribbon-cutting in November 2001, Trizec announced it was bailing out of the retail business to concentrate on office deals. (The company sold its outdoor Pasadena mall, the profitable Paseo Colorado, for $114 million.) Two months earlier, the 9/11 attacks slashed global tourism, especially Asian travelers venturing to Southern California. Because of SARS and the Iraq war, tourism this year is expected to remain at the same flat level as last year, when it drummed up $11.8 billion in business, according to L.A. Inc., the Convention and Visitors Bureau.
"The project has not done nearly as well as expected, and there were a lot of reasons, not the least of which was that 9/11 dropped the bottom out of the tourism industry. It was built primarily for [foreign] visitors," said Donald Spivack, deputy administrator of the Los Angeles Community Redevelopment Agency.
Rick Matthews, a Trizec vice president, said the $194 million value was an accounting decision derived from two write-downs on the property, and may not reflect a negotiated sale price. The mall is currently 84 percent leased with a number of closed storefronts. The hotel has run about three-quarters full, the area's average.
Some observers have said the city and Trizec have used 9/11 as an excuse. But Matthews said there were "significant" cost overruns and time delays during construction. He wouldn't cite specifics, though some said building the Metro Rail depot under the mall was a tricky proposition.
"From a purely financial standpoint, it's turned out to be a disappointment," Matthews said. "We did lose a lot of money. But 20 years from now, people will remember it was a catalyst [for the area]. That will be our legacy. Who remembers who lost money in the resurgence of Times Square?"
Trizec refers to the complex today as an entertainment destination. On a recent workday just before lunch, there seemed to be as many as shopkeepers, security guards, and related personnel as customers milling around the palm-tree-flanked plaza. Visitors photographed the elephants and the Hollywood sign, visible from one of the promenades. There are seven restaurants, several of them owned by Wolfgang Puck, serving up everything from Southern Italian cuisine to Shabu Japanese. Salted among them are pizza, burger, taco, kebob, and cheesesteaks joints, not to mention a full post office and a 640-room luxury hotel, the Hollywood Renaissance, done in retro-1950s style.
"The reason the mall is unsuccessful is location, location, location," said redevelopment and mass-transit activist John Walsh. "It's a terrible neighborhood. We call it the Peggy Lee mall: people walk around and say, 'Is that all there is?'"
Much was also made of the high-end couture shops selling $1,500 leather pants that eventually closed their doors. Stables said they wouldn't repeat that mistake. She hopes the Kodak Theater will juice up retailers' cash registers as patrons come to see a series of limited-engagement Broadway shows such as The Full Monty.
"It's an interesting and kind of disorganized project," said Larry Cosmont, a well-regarded L.A. real estate consultant. "There are elements of genius and missteps. The grand facade, the stairway, and the Kodak Theater are great elements. But the user-friendliness is very low. It's going to take some remodeling effort to put the project at the performance level it was originally conceived to be."