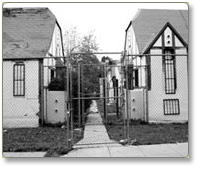 A few years ago, a group of West Pasadena tenants grew so exasperated with its landlord's cut-rate maintenance that they decided to summon some rulebook muscle to its cause. So, the renters began phoning the city's code-enforcement division to plead for the unorthodox: nosy inspections of their very own properties. 
Dispatched there, code officers saw the tenants' complaints about health and safety hazards had merit to them. At least eight houses were written up, five of them for "major violations" such as illegal wiring, sagging and unsanitary floors, poor water pressure, improper heating ducts, mold, exposed asbestos and a leaking sewer drain, records show. A single house on Madeline Drive had 16 items needing correction.
Spotting the flaws, however, was easier than working with the landlord on the repairs, all of which have been completed. The California Department of Transportation owns the homes, and Caltrans has long asserted its state-owned residences are exempt from municipal building and safety statutes. While department officials that say their houses "conform" with those codes, they claim state sovereignty renders compliance optional — a power that stunned many renters.
Immunity has been a formidable shield. Caltrans has hoisted it in its refusal to quickly attend a slew of problematic houses, among them a mold-pocked property on St. John Avenue that Pasadena officials wanted addressed five years ago, documents indicate. Even today, the agency continues to balk at offers to have their rehabbed houses in Pasadena formally inspected and issued occupancy certificates before they are leased out.
California's highway agency is no small-time landlord. It owns 587 parcels along the un-built Long Beach (710) Freeway extension through Pasadena, South Pasadena and the northeastern Los Angeles enclave of El Sereno. The department acquired most of the dwellings in the 1960s and 1970s expecting they would demolish or relocate them once construction revved up. But legal challenges, particularly from the city of South Pasadena, which worries about being split in two by the spur, have turned it into a 40-year stalemate.
Most cities have traditionally accepted Caltrans' immunity argument out of self-interest. City officials, for example, often crave freeway improvements that the department controls and prioritizes, or thinks big picture; Los Angeles, for instance, is pro-710-freeway extension, which put Caltrans in the housing-rental game in the first place. These same officials are also aware that enforcement actions against large public entities can be fratricidal and costly.
This hands-off attitude has often left renters in a regulatory netherworld. They receive threatening letters from Caltrans if they don't mow their lawns while termites munch their walls and their heaters conk out. They want help, but don't know what entity will listen. If one does, they fear their house might be yellow-tagged as uninhabitable.
Marie Salas, a tenant and activist from El Sereno, said she feels isolated. When she objected to cheap, aluminum windows that leaked into her house during rains, chilling her and her kids, her Caltrans rental agent advised her to "wear more sweaters."
As the Weekly reported last week, the department has allowed dozens of its 710-houses to become unsafe or slum-like, even as it mulls over an "exit strategy" to abandon the roadway for more palatable alternatives. A quarter of all its parcels are either so run-down they cannot be rented or sit as empty lots. Homeless and criminals have plundered the unoccupied dwellings, and Caltrans has yet to sell at least 21 homes no longer needed to build the $1 billion-extension. One renter recently filed a lawsuit claiming the department failed to remove toxic mold that made her seriously ill. In another case, the agency paid a tenant nearly $200,000 in relocation benefits even after they evicted her for condoning drug trafficking at the residence.
'They are bullies'
Lynn Bryan, a retired political consultant who rents a turn-of-the-century Victorian, was one of those requesting a city inspection that unearthed problems. Caltrans spent roughly $600,000 rehabilitating the structure, but you wouldn't know it. Upon move-in, Bryan found the roof leaked, the toilets backed up, the circuits tripped easily and hot water was nonexistent, court records show. While those defects were fixed, the house's second floor still lacks heat because no unit was installed there as specified in the design plans.
Three years ago she considered relocating to her previous rental and requested a city inspection there. Hearing that, her Caltrans rental agent laid down the non-law: "He said, 'The city can't put one foot in the house!' That's when it hit me I didn't have the same rights as every other citizen," said Bryan, now a leader in the tenants association. "Not only was I hostage to Caltrans, the city was too."
Nancy Webster and her family received their own taste of Caltrans sovereignty when they tried finishing what the department apparently couldn't afford. Forced to relocate from a house Caltrans slated for rehab, they decamped into a four-bedroom Mediterranean in spring of 1999. The rental lacked fences, a concern for their four kids given the 25,000 cars coursing past their front window on Pasadena Avenue daily, but was pleasant enough.
Pleasant and odd. An upstairs suite at the back end of the house had been sealed off. There was no stairway up and, Webster said, no explanation of what was inside. Webster had asked the city about the legality of cloistering off part of an occupied house and was told by a code enforcement officer that Caltrans can do whatever it wants. Curious and concerned, figuring they were paying rent on this banished suite, the family pried off the nailed boards and were aghast. There were feces in a squalid toilet, holes in the wall and decaying junk spread about.
"We were pretty grossed out," Webster said. "We felt this was bad for our health to have a sealed-off area. God forbid a fire started without anyway to stop it." The family took action. With roughly $2,000 out of their own wallets, they put in a dropdown staircase, installed drywall, scrubbed the bathroom and did other work. Webster said it was after Caltrans officials spotted them laying a perimeter cinderblock wall — fencing she said the agency had promised to erect in but never did — that regional real estate service manager Carol Devorkin lost it.
"She swore like a sailor, screaming at the top of her lungs in our driveway and throwing her papers to the ground in front of our 6-year-old son," Webster recounted. "She was saying, 'How can these people do this?' At some point, they became aware of the work we did upstairs. They sent us a letter saying take down the wall, close up the upstairs or you are out … They are bullies with no compassion for their tenants."
Caltrans spokeswoman Deborah Harris said avoiding the cordoned-off area was in the rental agreement the family signed. She also said that by removing the fence between the house and garage, they damaged historic structures. Devorkin, who declined comment for this story, acted professionally, Harris said. Doug Failing, who oversees the Caltrans district containing the 710 properties, said in general the houses are well maintained, and getting better under his regimen.
"Even though we aren't subject to local codes, we think we are doing our best to meet them," he said. "Decent safety and sanity is a main concern, and rats and leaking roofs are things we should be addressing."
Caltrans records for 2001 and 2002 show that it generated roughly $7.9 million in rents for these homes and plowed back $4.5 million on basic maintenance. The balance is returned to state and local governments. Asked why so many tenants and others say the houses are in disrepair, Failing did not refer to tight state budgets hamstringing repairs as other agency staffers have.
"Many of the issues we are seeing," he said "aren't habitability issues." Queried repeatedly why they assert code immunity, Caltrans officials did not respond.
Too tough
A 2000 state audit critical of Caltrans and the California Department of General Services for a $20-million rehabilitation job of historic homes along the corridor highlighted confusion about the code issue. (Because of what auditors called a "hasty" and "piecemeal" strategy, just 39 of the 92 houses were repaired at $500,000 apiece.) First Caltrans officials told auditors that local codes didn't apply: only state preservation standards did. Then they said codes in force at the time they bought the houses were in effect. Ditching that line, officials contended that new codes trumped those older ones.
Last month, Caltrans Director Jeff Morales weighed in on the subject. Writing to Assemblywoman Carol Liu, D-La Cañada Flintridge, Morales argued all the 710 properties were code-compliant except those in conflict with historic standards. Liu, a Caltrans critic who has legislation pending that would freeze rent increases and evictions at the houses until 2005, doesn't believe the dwellings are up to code based on evidence her office has seen, Lius's chief of staff Suzanne Reed said.
Pasadena Attorney Chris Sutton, who labels Caltrans "the biggest slumlord in the area," argues that the agency is vulnerable to prosecution. For years, Sutton has badgered Pasadena officials to enforce the California health and safety code section mandating that public entities maintain the residential properties to habitable standards. That language echoes various federal court orders requiring Caltrans to keep its structures in "good repair."
"It's the knife through the sovereign power," Sutton said. "The city can seize rents, prosecute. But no one has put the resources into taking Caltrans to task. Everybody is more afraid of Caltrans than they really should be. In all three cities they clearly have hundreds of violations. And the conditions are worse in El Sereno." Caltrans own right-of-way manual, publicly available on the Internet, references the same state code sections that Sutton has agitated about. According to that manual, the properties "shall be maintained in a safe and hazard-free condition." Un-rented homes," the manual states, should be kept "in a manner that will reflect credit on the state and preserve local community value."
No shirking
Pasadena, after promising and then failing to crack down on Caltrans in the mid-1990s, did bare its teeth three years ago. Alarmed about the violations they uncovered at those solicited inspections, and Caltrans lawyers' refusal to answer questions about them, City Manager Cynthia Kurtz and code chief George Chapjian convened a meeting. The site was at a Caltrans rental still occupied by General Services, which managed the rehab.
Chapjian recalled the meeting atmosphere as "tense" with each side firm about its position. He had already tried to get one particular dilapidated property repaired and was told by Caltrans he had no jurisdiction.
Out of the meeting came a grudging compromise: The city would send out inspectors in response to complaints involving "key health and safety issues" such as hazardous wiring and lead paint. All other grievances would be referred for Caltrans to resolve within 30 to 45 days before the city jumped in.
Caltrans didn't volunteer the change. The department wanted Pasadena City Hall's political backing for their request to the California Transportation Commission for an additional $22 million to overhaul the historic houses they failed to renovate before, one source confirmed. Pasadena, though, threatened to withhold that support unless Caltrans accepted the code deal. (Citing the botched rehabs, the CTC denied Caltrans' funding request, as did the county Metropolitan Transportation Authority.)
Kurtz reiterated the city would not back down and the pressure has improved conditions some. "There is this belief we won't respond" to complaints, she said. "But we have to enforce safe, habitable housing and we won't shirk from it."
It's not that simple in the other two cities that Caltrans' houses snakes through. South Pasadena City Hall only regulates property exteriors. Some time ago, the city started pressuring Caltrans to tend to empty houses with vandalized facades,  it did produce some improvements, said Assistant City Manager Gay Forbes. Today, there are eight empty houses in South Pasadena and an inkling of cooperation between the city and Caltrans.
(South Pasadena officials last year swapped a piece of land that Caltrans wanted in exchange for a "trashed," long-unoccupied house on Berkshire Avenue, Forbes said. The city subsequently turned the dwelling over to a private homeowner, who is rehabbing it.)
Because it lacks a health and safety division, South Pasadena refers those types of complaints from Caltrans tenants to the Los Angeles County Health Department.
" We can't pass judgment on whether they are good or bad landlords because we don't live in the buildings," Forbes added. "None of the cities' codes have anything to do with the inside." Still, she said, Caltrans isn't "going to win any prizes for property management."
For its part, the county Health Department doesn't routinely inspect single-family dwellings with less than four units. It does respond to specific complaints and recently cited Caltrans for its neglect of a South Pasadena house with faulty plumbing, crumbling walls and a rat problem.
Caltrans renters in El Sereno have to turn to the city of Los Angeles, and it has a maze of housing and building department that often confuse people. The City Council has also approved a code enforcement exemption to government-run housing, meaning aggrieved renters have to call the county or state lawmakers if Caltrans won't live up to its own rules.
Caltrans tenants in El Sereno have long complained about pest infestations, shoddy roofs and receiving less attention than other renters because many of them are lower income and predominantly Hispanic. Like elsewhere along the corridor, empty Caltrans homes there are temptations for gangs and vagrants. An eight-bungalow complex visited by the Weekly on Maycrest Avenue is a well-trespassed hellhole. A supposedly vacated house on Kendall Avenue has people brazenly living in it with houseplants and a dog.
"We have absolutely no jurisdiction," said Bob Steinbach, chief inspector for the Los Angeles Building and Safety Department. "It's no different than schools, trailer parks and hospitals where the state has" control.
Calls to Sarah Dusseault, the assistant deputy mayor for housing to Los Angeles Mayor James Hahn, went unreturned.
Call somebody
Longtime Caltrans tenant Anne Alderson, figuring no one else would help her, wrote all the way to Gov. Gray Davis about the abuse she allegedly endured trying to get her dated bathroom repaired with new tiles, cabinets and a tub. The trouble started, Alderson said, when property manager Linda Wilford switched contractors and a procession of Caltrans officials trooped in and out of her powder room documenting the job with cameras and notes. Wilford then nixed the tub from the to-do list.
Repairs commenced in February, and Alderson said she quickly realized the young men performing them were illegal immigrants from Mexico with minimal understanding of the language or job at hand. She said they admitted to her that the contractor had hired them at a Glendale street corner. Alderson complained to Wilford about this, as well as Caltrans' practice of entering her house for inspections without notifying her first. On Feb. 20, dissatisfied with crooked tiles being installed and the contractors' attitude about it, Alderson called Wilford. She drove out and, according to Alderson's correspondence, began insulting her, reducing her to tears. Alderson's son overheard the tirade and told Wilford not to speak to his mother like that, but she continued anyway.
Failing wrote back to Alderson saying his staff was researching her "concerns." He said Caltrans investigated the claim about the contractor's use of undocumented workers and no labor laws were broken. He told the Weekly only one complaint about similar allegations had been lodged. "It's not been the most cooperative relationship with" Alderson, Failing said, adding he was pleased with Wilford's overall performance.
Caltrans spokeswoman Harris said Wilford declined comment and that the charges against her were "unfounded."
Today, Alderson's bathroom stands only partly renovated. Since the construction, rats unloosed by a hole in the wall the contractor didn't patch have been scampering through her kitchen. She called Pasadena officials, who in turn alerted Caltrans.
Week 1: Corridor of Shame—No Exit
Week 3: Tunnel Visions—Corridor of Shame
Week 4: Legislature Needs to Take Control of Caltrans
Week 5: No Place Like These Homes—Corridor of Shame
Copyright Chip Jacobs