The day that lives forever in me began with a pewter-colored mushroom cloud in my rearview mirror. It loomed behind as I was driving to my metro-reporter job at the San Gabriel Valley Tribune on a hot, windblown day in October 1993. At my desk, I checked the newswire, and my stomach tightened. A fast-rampaging brushfire was devouring the foothill neighborhood in east Pasadena where I grew up. Where my elderly parents still lived. In the blink of an eye I was back in my Nissan, this time speeding on the Foothill Freeway's inside shoulder, headed to my then current-place in Hastings Ranch to figure out what to do. Inside, I discovered my folks had already been evacuated from their mid-century property in Eaton Canyon, and let themselves into my den, with a key I forgot I gave them, to watch TV coverage of the flames, fret about where they'd be sleeping that night, and eat their feelings by plowing through a box of my Triscuits. Soon, my oldest brother, Paul, pulled up. With little discussion, and no zero plan, we decided to drive up to our childhood abode on Kinneloa Mesa to play amateur fireman.
Up in the foothills, the tableau was a wasteland of smoke. You could barely see 10 feet ahead, and every breathe was last gasp inside of a charcoal BBQ. There was repeated coughing and eye-rubbing, and this tacit delusion that we could block Mother Nature's intentions amid all that dry brush and wooden homes. A white-haired neighbor wandered down to announce, without me asking him, that his place had burned down. Sometimes, "sorry" doesn't feel very comforting. The fire, set accidentally by an indigent camping in  a largely granite ravine, was in the process of destroying one out of every three homes up on the bluff, hopscotching indiscriminately from one roof to the next. Picking survivors and victims, you might say.
When Paul, my parent's longtime housekeeper, Fong, and I turned the garden hose on to douse embers buzzing about like maniacal insects, only dribbles came out. All the public water, we'd learn, had been tapped. Instead of beating a prudent retreat, Paul and I decided to vamp it. We filled up empty Sparklett's Water jugs with pool water to extinguish hot spots flaring around the perimeter. He went one way, me the other. I wound up on a neighbor's land, hacking, unable to see the sun or be sure of my direction, pouring water, with poor efficiency, from an incredibly heavy jug for a liberal arts major. Did I mention I was wearing Topsider shoes with no socks? Not long after, I watched my brother, still in his business attire, nearly fall off the roof, hanging by the rain gutter, during his inspection. It was that sort of day. That sort of predicament where you try batting away little voices of caution by relinquishing to adrenaline. By thinking we're smarter that the path of destruction.
We decided to take one final recon trip around the house before leaving. For the first time in our bizarre venture into the acrid whiteout, beneath helicopters, bombarded by fire engine sirens, we walked south, behind the Pac-Man-shaped pool, towards a hill abutting another neighbor's property. There was but one way to turn, right, onto a concrete ledge supporting the pool heater. The three of stopped dead in our tracks there, watching flames gnaw and incinerate weeds and chaparral in the gully below us. It was mesmerizing. It was the precursor flare-up that'd probably burn our entire childhood home down. It was a rubbernecker's delight. And it was stupendously dangerous. As we stood there slack-jawed, a Santa Ana gust picked up, and when it did, it took mere seconds for the wind to send a curtain of orange, seemingly sun-hot flame ripping uphill at us. I thought we were dead, seeing a little movie of my life – a life starting to bloom with my writing, young wife, and baby on the way. I turned to the side, crouched, and waited to be enveloped. Maybe I could run aflame to throw myself in the pool, God help Paul and Fong.
What would they say at our funerals? One man's hero is another's fool.
The concrete ledge, unbelievably, was our fire break. Our unlucky salvation. The scrabbly, gray block is the only reason I'm writing this from planet Earth, rather than remembering it from the Great Beyond. Spared being burned to death, the three of us looked at each other like people who just dodged a meteor or locomotive. We raced back to the car, down the Mesa, and returned to my house with Thank-God-I'm-Alive faces, damp clothes, and a pungent, ashy-sweaty scent. I could've used a beer. Or something stronger.
Later that day, Paul and I returned to the old house, stomachs in mouth, as we rounded the corner that would tell us whether the place where we grew up still stood. It was, though the "boathouse" on the lower part of the property was smoldering ruin. The wildfire had immolated the wooden structure like an A-bomb, melting an iron I-beam and hydraulic lift used to hoist a power boat off the floor just to grandstand. Everything in there was gone except the boat, which was parked up in Oregon. Not so fortunate were an assortment of heirlooms, most notably the turn-of-the-century, scuffed organ that my grandfather, Hollywood musician Lee Zahler, played during his fruitful show-biz career. The music he made off that simple, portable instrument had given my mother's family a comfortable life in 1930s Sierra Madre east of Pasadena. The ditties he composed off of it then kept his loved ones off the streets after his picaresque, adrenaline-junkie son broke his neck in a gruesome gymnastic mishap on a rainy day in November 1940.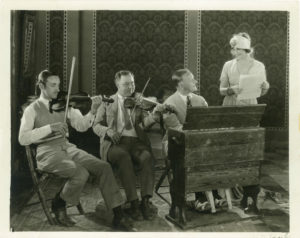 I knew almost zilch about this when I informed my mother that the boathouse was no more. She cried softly, staring with a thousand-yard stare out my kitchen window, barely able to speak.
Curious about the story of that piano, now fascinated by a past whose mysteries called out to me, I quit a prized investigative reporting job at the Los Angeles Daily News in late 1996 to write what became Strange As it Seems: The Impossible Life of Gordon Zahler." The story would launch my book-writing career, send me to places and onto paths I never could've dreamt. And it was all because that mushroom cloud awoke me to ghosts who merited resurrection.