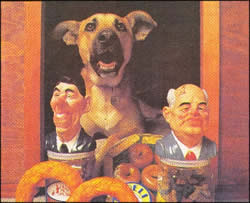 Admittedly, the grinning busts of perestroika pals Ronald Reagan and Mikhail Gorbachev probably aren't on the tony, "got-to-have" lists of the Smithsonian or Louvre museums.
And despair not if the 4-inch-high rubber likenesses, $5.99 a pop, don't get your Doberman or Republican buddies doing circus tricks. A new breed of pooch products is sweeping in, making Snausages look like yesterday's kibble.
Just peer around the squeaky, ex-cold-warrior toys displayed at Pasadena's Petco and you'll discover aisles of exotic dog gear guaranteed to get even the most discriminating poodle's notice.
Developed in America and produced largely abroad, the items are collectively ingenious, fatuous and in demand. But are they enough to supplant the Stupid Pet Tricks routine on "Late Night With David Letterman" skit?
Mull, for instance, the hickory-flavored cow "Choo Hooves" that are putting the rawhide industry in a funk. Unlike the conventional rawhide bones of yesteryear, these pungent cows' hooves can't swell up inside Spot's gut and cause stomach troubles.
"Right now they're real popular," said Lynn Sanchez, manager for one of Petco's competitors, the Pet Barn on Pasadena's Fair Oaks Avenue. "Personally, I think they are disgusting."
Quips Don Irving, manager of Petville USA in Mar Vista, "And from Chihuahua to Great Dane, they (the hooves) last longer."
But the rawhide makers aren't rolling over and playing dead in the face of the hooves invasion: They now shape the dried cow skins to resemble bagels, footballs, pretzels, loafers and sausages. Not satisfied with just that marketing slant, rawhide can now be had in multicolored "gourmet" packages with optional chicken and cheese flavoring.
That's just the beginning. Cough up a few greenbacks at Pet Barn or El Monte's Pet Jungle and you can replace your dog's fetish for hand-me-down socks with baked pig ears, swine not included.
Too revolting? Try these offerings:
* "Tuffy," a rubber chew toy, almost in the shape of a toilet plunger, so tough it could probably withstand an atomic blast, if not Sparky's grinding molars.
* "Easy Rider" car harness that straps your hound in place with enough slack so it can still stick its head out the window. If Spot favors the pool, you can snag a "Pet Preserver."
* "Fido Shock," a doggie "deterrent" run on conventional or solar power that would make Pavlov salivate. The electrically charged wire strung around a flower bed or garbage can gives your dog gets a jolt he'll not soon forget.
* Slip-on Easter ears, reindeer antlers to get your dog in the festive spirit, giant bow ties for those stately events.
* A line of 100 percent natural shampoos that leave your four-legged friend smelling like rosemary, sage, myrrh, or red clover instead of the backyard.
"If you go to the recent trade shows, you'll see there has been just an explosion of pet products," says Stever Netherby, editorial director for Mission Viejo-based Pet Product News. "The manufacturers seem to be getting more sophisticated all time, mainly because they are anthropomorphizing the items. . . . It's just like fishing lures: They're designed to catch the fisherman, not the fish."
That may be so, barks one local manufacturer, but what is good for the master is good for the pet — and entrepreneurs. After all, when the big U.S. dog-food makers found religion in the late 1980s and began developing more health-conscious fare, the gimmick makers followed suit.
Today, as thousands of Southland pet stores attest, the nation's animal product business rings up revenues — in individual people-years — something in excess of $1 billion, perhaps 10 percent of that spent in California. That, in turn, has enticed pet-supply chains, like Petco and mega-retailers K mart and Wal-Mart, into the game, where they sniff out territory once dominated by the corner mom-and-pop stores.
According to those who market and sell the stuff, two things are working in their favor. For one, embedded yuppieism means the white-collar crowd is having kids later, leaving time to pamper animals — whether their dogs, cats, iguanas or llamas. And with the economic downturn still in full bloom, people are spending less on travel or fancy cars and more on family needs.
Take Dogloo Inc. of Corona, originator of the igloo-shaped plastic dog houses that have sold "millions," according to company Service Manager John Burns. When engineers from the aerospace and toy industries teamed up in the 1980s, they pioneered a new shelter built with nitrogen insulation so energy efficient it keeps man's best friend warm in winter and shady in August's swelter.
"Sure, there are other people who have (dog) houses on the market," Burns crows, "but they don't approximate us."
Then there's Mike Grossman, owner of Westlake Village-based Pet Goods Manufacturing, which imports leashes, collars and stainless steel feeding dishes from Germany and the Orient for sale to giant retailers and mail-order catalogs. Conventional goodies aside, one of Grossman's hottest selling items is a 4-inch-thick, rectangular-shaped, insulated mattress for dogs and felines.
And he continues to get hit up by inventors hawking more newfangled paraphernalia.
"Yeah," Grossman relates, "I was even approached by some guy trying to sell me doggie sunglasses with a special nose guard."
So what do cost-wary consumers think of this stuff?
Arcadia resident Karen Seaman, for one, gobbles it up, as does her poodle Tigger.
"My dog loves the cow hooves, I mean he absolutely adores them," says Seaman, who bought Tigger from an animal shelter when her husband left her and her children moved out. "Now the Reagan head, that's stupid. . . . But I'll spend any amount to get my animal's affection. I even made a rain coat for Tigger."
copyright Los Angeles Business Journal