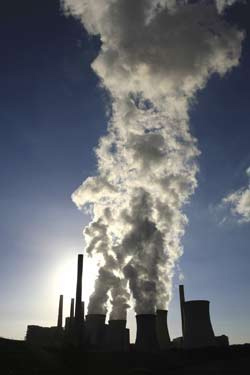 Anne Sholtz, as many acquaintances will say, had a Svengali-like talent for persuading big companies and small investors to buy into her vision of a Wall Street-style smog-credit market. Salesmanship aside, her most beguiling magic might've been avoiding jail time well after authorities were onto her.
It's now been five years since investigators targeted Sholtz and her now-defunct Pasadena-based company, EonXchange, and almost three years since she pled guilty to wire fraud for deception and impersonation involving an energy company and ExxonMobil Corp.
Since then, the once hard-charging businesswoman has been free on bond, spending part of her time in her lavish Bradbury estate until lawyers liquidated it for the multimillion-dollar bankruptcy case shadowing her criminal proceedings, officials said. She later moved to Redlands.
Meanwhile, her sentencing date has been postponed so many times – including three dates just this year – that even some agencies have lost count. Her attorney, Richard M. Callahan, sought the most recent postponement so he could respond to the government's pre-sentencing recommendations, records show.
The lag between her indictment and possible incarceration has fanned speculation that Sholtz, now in her mid-40s, turned over to federal authorities information about other fraudulent schemes she was aware of in order to cut a better deal for herself. Neither Sholtz nor her lawyer would comment for this story. Whatever the true reason, some of the firms and people the petite dynamo allegedly bamboozled are anxious to see her put away.
"She was bold enough, took enough, messed up enough people, and only copped to one count of wire fraud, and may have a ton of money stashed away," said an attorney for one of the companies seeking its money back. "Clearly, there's something wrong here with the justice system."
It's not easily apparent how many of the postponements were initiated by the US Attorney's Office. Thom Mrozek, spokesman for the Justice Department's Los Angeles office, said the government's rationale is confidential and under seal. Mrozek added that sentencing delays "happen all the time."
"We believe we negotiated a proper outcome to the case so that the interests of justice are being served," Mrozek said.
Sholtz may learn her fate on March 31, when US District Judge Audrey B. Collins is scheduled to sentence her. Based on now three-year-old guidelines, she could face a five-year prison term.
"Normally, when somebody commits a crime and the facts point to the perpetrator, the perpetrator is removed from society and put behind bars," said one industry observer. "We don't have that situation with her. Who knows what she is doing?"
Ironically, Sholtz kept her freedom longer than the regulator who helped catch her kept his job. Peter Mieras, district prosecutor for the South Coast Air Quality Management District, was fired recently. Mieras, an 18-year district employee, refused direct comment about Sholtz and the reason for his dismissal, but issued a statement.
"My departure from the AQMD involved a matter unrelated to my work performance or the policy direction of the AQMD," Mieras wrote. "I am looking forward to pursuing new opportunities in the air pollution field, particularly the emerging practice areas associated with greenhouse-gas regulation. I have nothing but good feelings for the people at the AQMD, and I have every reason to expect that the protection of public health will continue to drive the agency's agenda."
Sholtz's case dates back to July 2002, when the AQMD began investigating her for allegedly defrauding nine different clients, records show. The US Environmental Protection Agency joined the inquiry, and officials arrested her. It became the biggest scandal ever to wrack the district's trailblazing pollution exchange.
For years before then, the woman known for her slick presentations, revealing outfits and outsized ambition, as well as her ties to academia and financial institutions, had been one of the chief industry architects of the smog-trading bazaar known as the Regional Clean Air Incentives Market, or RECLAIM.
Approved in 1993, it was an environmental first, laying some of the groundwork for today's carbon markets. Instead of traditional "command-and-control" anti-pollution rules, RECLAIM allotted to roughly 350 refiners, power plants and other large manufacturers a yearly distribution of credits for their emissions of smog-forming nitrogen- and sulfur-oxides.
Local companies that reduced their discharges, typically by installing cutting-edge equipment, could sell unused credits to firms that needed them. Brokers paired buyers and sellers. Last year there were $74 million in RECLAIM trades.
While numerous clients accused EonXchange of swindling them out of credits or money owed them, it was Sholtz's behavior with one client that led to her undoing, a federal affidavit shows. Beginning in April 2000, Sholtz represented to New York-based energy trader A.G. Clean Air that Mobil Corp. needed a large batch of credits to operate in Southern California.
She convinced A.G. that it could turn a handsome windfall selling approximately $17.5 million in credits to the oil giant through her brokerage. Relying on that, A.G. bought from Sholtz $12.5 million in credits that she promised to re-sell to Mobil. In truth, there was no deal and Sholtz's supposed contract with Mobil was a "fraudulent document," federal officials concluded.
Sholtz paid A.G. $9 million. When the remaining proceeds went unpaid, A.G. in late 2000 started asking questions. At first, Sholtz blamed it on Mobil. As A.G.'s questions mounted, Sholtz sent phony emails and faxes purporting to confirm there was an agreement in place.
Apparently cornered in spring 2002, Sholtz flew to New York, where she admitted she'd fabricated the documents and blamed the mess on a mysterious co-worker named Jimmy Keller. She also asserted that Keller impersonated an attorney at newly merged ExxonMobil. Keller was never charged.
Concurrent with Sholtz's criminal prosecution has been a Chapter 7 bankruptcy case, which court-appointed trustee Howard Grobstein and a law firm has overseen. In 2003, creditors registered between $54 million to $80 million in claims, records and interviews indicate. Besides A.G. Sholtz's creditors included California Federal Bank, Bank of America, American Airlines, Chevron, Disney, energy interests, the cities of Brea, Anaheim and Burbank, the Netherlands and Northrop Grumman Corp.
Kathy Bazoian Phelps, one of the lawyers working with Grobstein, knows plenty about Sholtz's activities. Like others, she is astonished that Sholtz has remained free for the past five years.
"The criminal matters getting continued and continued and continued appear to have been excessive," Phelps said. "But the depth of what she was involved in was extensive. It took us time to get our arms around it."
Her case at the US Bankruptcy Court Central District in downtown Los Angeles has spun off 60 side lawsuits. Called "adversary proceedings," they seek recovery of credit transfers that shouldn't have occurred, a December 2007 document indicates. Grobstein reported he had about $5.8 million in cash free and clear of liens, ostensibly to pay off remaining legitimate creditors.
From the start of the bankruptcy through October, Grobstein and his associates have sought about $3.7 million in fees and costs.
Most shockingly, investigators believe that RECLAIM was just a cover for Sholtz's even grander schemes. The affidavit said Sholtz was plying "several deals that involved Federal Reserve notes, currency, global cell phones, gold, bank guarantees, high-yield investment programs, and medium-term notes. These deals involved large amounts of money."
Even after she filed for bankruptcy, Sholtz "continued to defraud investors," Grobstein wrote in a recent court filing. He concluded that "many of the financial transactions taking place were not tied to particular emission credit trades, but rather, appear to be a Ponzi-type scheme where Ms. Sholtz was soliciting new investors in order to pay large returns to existing investors."
Phelps said they hoped to resolve the bankruptcy case this year. One of the larger claims is from Aera Energy, a California oil and gas production company that alleged it lost $10 million in credits that were supposed to be held in an escrow account.
Sholtz allegedly fleeced more than corporations. There were individual investors, too.
"Mixed in are sad stories," Phelps said. "Some people [who] had saved up money for their kids' college education invested with her, and now it's gone."
Sholtz had come to Southern California from the Midwest as a young, go-getting economist who claimed to hold a Ph.D. from Washington University in St. Louis. With some private seed money, she founded what would become EonXchange and operated a Web site for trades called "Automated Credit Exchange." During the 1990s, Sholtz claimed connections with Caltech and the Pacific Stock Exchange, hyped her ability to harness computers developed for space missions to analyze trades, won glowing media attention and lived well. Working out of a hip office in Old Pasadena, she helped the AQMD fine-tune RECLAIM in its infancy – one reason why district officials have felt both embarrassed and betrayed by her.
During the Californian electricity crises of 2001 and 2002, Sholtz even offered to stabilize skyrocketing RECLAIM credit prices by managing transactions on her trading system. The district rejected the proposal.
Sholtz, to some who dealt with her, was charming, pretty and impressive. Later her deceitfulness and cunning emerged. As the Pasadena Weekly reported, she held no Ph.D. and was just a part-time Caltech professor. When investigators and lawyers caught her scent, panic set in.
When "we were at her offices, we got on the phone to call one of the people she had told us to call but didn't think we would," Phelps recalled. "She bolted out of the room. She grabbed her cell phone, and we believed she called him and told him not to talk to us."
Copyright Chip Jacobs
A nearly identical version of this story appeared in the Pasadena Weekly.