The two-hundred folks squished into the VIP lounge of the Henry Fonda Music Box Theater were grinning and yipping as the early poll results blinked on the big-screens. It was primary night, March 3, and the Antonio-Villaraigosa-For-Mayor bandwagon resembled a Winnebago. A Motown band crooned, the liquor went fast, and if you noticed it, off to the side of the victory buzz, a gaggle of small-town mayors, party operatives, and various believers were embracing a dark-eyed legend many were afraid to be seen with a few years ago. Richard Alatorre was touchable again.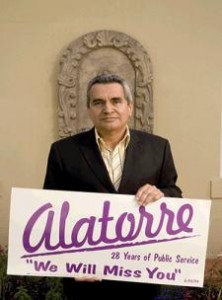 "He was getting hearty hugs, unsolicited, and people wanted their picture with him," recalls Don Justin Jones, a Democratic activist from Pasadena who has known Alatorre since the 1960s. "There's a saying – 'You don't shake hands with a dead man or he'll pull you down with him' – and the establishment was treating Richard like the long lost prince of the city. You know he was happy when he was calling people, 'Babe.'"
Had a few things gone differently, it might've been Richard Jose Alatorre taking the oath as Los Angeles' first Latino mayor in modern times, not the slick, cherubic-faced Villaraigosa (should he unseat Jim Hahn May 17). Had Alatorre not tried to house a little girl who lost her mother nine years ago, some grand building might now bear his name.
Destiny, however, had other ideas. His storybook ascent from barrio kid to Hispanic political royalty collapsed in soap-operatic disgrace in 2001 with a graft conviction and drug allegations. He was banished to the Siberia of house arrest, his legacy tarnished no matter the heartfelt tributes from senators and do-gooders.
Should Villaraigosa need a primer on toughness, the man who has been his unofficial campaign consigliere can go one better. He knows history can be viciously ironic.
In 1992, in a recession-flattened, riot-torn Los Angeles, it was Alatorre, the mainstream Democrat, whom the conservative Richard Riordan most feared as his opponent in the mayor's race. It was Alatorre who masterminded the district reapportionment that enabled Villaraigosa to win Alatorre's old seat that he has used to challenge Hahn. And it was Alatorre, along with County Supervisor Gloria Molina, his longtime nemesis, who hoed the path for a fresh crop of Mexican-American politicians. One of them was Richard Alarcón, the defeated mayoral candidate and Valley Councilman who liked stressing he was no Alatorre (read: corrupt).
Having jogged through hell and back, Alatorre is in his salad days now – happier, healthier, and holier, those close to him say. The impatient snarls that seemed to bubble from a tormented soul – what writer Hunter S. Thompson once called a politician's "inner werewolf" – surface less often. At 63, he is a family guy and elder statesman, both felon and community icon, living sorry for the shame he caused yet convinced that he was hunted.
"I don't condone what I did, but I did it out of desperation," Alatorre explains, slitting his eyes at Camilo's Bistro, one of his Eagle Rock hangouts. "I made a mistake and paid for it. It was a very humiliating experience for my family and friends and the institutions that I was part of. It made me assess the role I'd played in things.
"For five years, I had to wake up wondering what the next story was coming up," he adds. "Because of what happened, I'm the sum of the end of my career, when things were bad. I've got that asterisk on my resume that overshadowed 28 years of work."
That episode now seems like yesterday and never-happened. Peers don't worry anymore if they're being taped when they call him. A grayer, chubbier Alatorre gets warm smiles at City Hall. Politicians frequently call him for advice, or to help settle feuds. He's also not skating fast over the thin ice of insolvency anymore. Working quietly, tooling around in his steel-gray Jaguar, he consults for the Affordable Housing Development Corp., the Los Angeles Port Police, the city of Alhambra, and others. Clients chase him, though he refuses to lobby because of disclosure rules that once got him in hot water as a politician.
"I'm making more money than I ever have," Alatorre confirms. "But I'm not trying to chase the buck. All I want is to support my family and live as privately as humanly possible."
Alatorre, unlike the impeached Bill Clinton or a defrocked televangelist, took his lumps old school: be suffered quietly. Sequestered at home, calling in to his probation officer, he didn't court votes or campaign dough. He's learned to make beds, empty the garbage, and enjoy the peace of not having to attend endless meetings. There was no image-revival campaign, no weepy appearance on Oprah, even if he believed that the media had unfairly portrayed him as a sleazebag.
"I wasn't going to let reporters I had little respect for drive me out of town," he says.
The Natural
Before he died, Jose Alatorre left his son with a nugget: Use your head to make a living, because "you aren't any good with your hands." Young Richard embraced that advice, becoming student body president at Garfield High and part-time collection agent for a Whittier Boulevard jewelry store – a job that taught him when to intimidate people and when to back off.
He was an outgoing teenager, slightly rebellious, sure to attend Mass to check out the girls or pray that his jump shot fell during basketball season.
"I was the typical Catholic hypocrite," Alatorre chuckles. (Today, he's hard-core devout.)
At Cal State Los Angeles, Alatorre majored in sociology and then got his master's in public administration from USC, no small feat. While teaching college courses, he happened one day to run into East L.A. Assemblyman Walter Karabian, who knew potential when he saw it. He gave the kid a staff job.
Itching to be the man, Alatorre soon ran and won the assembly seat vacated by David Roberti. His timing sparkled, and he nuzzled in with a fun-loving set of heavy-hitters led by Speaker Willie Brown and his lieutenant, Mike Roos. Brown so liked Alatorre's preternatural cunning that he gave him the committee chairmanship overseeing juiced gambling and liquor interests. Picketing with Chavez, as Alatorre did in 1966 to protest farm workers' conditions, fed the soul. Working at the state capital during the Chicano era on pesticide regulation and rent control fed his conviction that the little guy needed protection.
But it wasn't heaven. Being in Sacramento meant he saw little of his two sons, who were living in Alhambra with his divorced first wife, Stella. He was terrified of flying, and distances required he do it constantly. He had a few harrowing experiences, including one occasion when the plane's nose cone blew off. To soothe his nerves, he drank.
Tired of flying and jonesing to put his stamp on local politics, he ran for L.A. City Council in 1985. He won, oiled by special interest money, joining the flamboyant Nate Holden, the stately John Ferraro, and erudite Zev Yaroslavsky at the Council horseshoe. In a portentous act, he paid a record $142,000-settlement to the City Attorney's office for failing to disclose contributors.
Alatorre savored the pothole politics that Brown had laughingly warned him he'd come to despise. He was the king of a fiefdom that ran from Boyle Heights to the Glendale border. In that district's volatile immigrant neighborhoods and yuppified hills, everybody recognized his swarthy, rutted complexion and sandpaper voice.
Mayor Tom Bradley also found his Council point man in Alatorre, even if the two couldn't be any different personality-wise. Alatorre proved to be masterful at three-dimensional thinking and lining up votes – without an excess of silky oratory.
Yaroslavsky, now a Westside Supervisor, felt a kinship with Alatorre because they both grew up in the same destitute area and understood tough personalities. Their similarities made for some electric combat.
"I judge people in politics by whether their word was good and whether you can depend on them hunkered down in battle, and yeah, I could trust him." Yaroslavsky said. "The thing about him that I always appreciated, even though we don't always agree … he always was the real deal. He cares about people on the margins … . I'm not going to defend what he did, [but] when I was up against him, I knew I was in the fight of my life."
By the 1990s, Yaroslavsky's portrait was the general impression of Alatorre: a fighter and even a bully. He'd holler at building officials who weren't moving fast enough to get repairs done. He'd sometimes unload on his own staff, exploding like a volcano while aides were left quivering.
Alhambra Mayor Daniel Arguello was part of Alatorre's assembly staff from 1977 to 1982. He remembers him for his odd mix of tenderness, agile thinking, and combustibility.
"As a boss, he was the most fun I've ever had, and there were other times when I wanted to kick in the door," Arguello remembered. "I'd worked for Tom Bradley, and his control was his presence. When Richard Alatorre was angry, everybody knew it."
This explosiveness, Alatorre now believes, was evidence of buried emotions. He was a "dry drunk" who missed his dad terribly. He couldn't uncork his feelings. He regretted what kind of father he'd been. Here he was out at ribbon-cuttings, defending the LAPD, shepherding a budget deal, and yet lost inside.
"People had this impression that I was ruthless, or had no blood in my veins," Alatorre said. "I gave nothing up about my emotions, so they said I was mean, cutthroat, backstabbing. You hear that time in, time out, and you become hardened. You become isolated if you've never taken stock of yourself. I didn't realize that I was bleeding internally."
Little house in Eagle Rock
The world would find out about his hemorrhaging maybe before he did.
In 1997, this reporter wrote a lengthy story in the L.A. Weekly about Alatorre's connections to Samuel Mevorach, an Arcadia-based real estate operator who'd bedeviled L.A. housing officials with his dilapidated properties. Among Mevorach's holdings was the Wyvernwood apartments, a sprawling, once-tidy Boyle Heights complex that had degenerated into blistered, crime-infested units coated with dangerous flaking lead paint; a number of children were poisoned from it. Feeling the heat from inspectors, Mevorach needed Alatorre's sway to grease a $91-million, city-subsidized sale of the property.
Alatorre unluckily needed Mevorach just as much as the slumlord needed him.
The previous year, Belinda Ramos, the sister of Alatorre's third and current wife, Angie, had died of colon cancer. Ramos left behind an adorable, seven-year-old girl whose father was named Henry Lozano. An older man, Lozano was chief of staff to a Democratic congressman and staunchly aligned with Gloria Molina's political machine.
Ramos's dying wish was for Melinda to live with the Alatorres. Melinda loved them, and they loved her back. Two months later, the Alatorres decided to sell their Monterey Hills condo and relocate to an Eagle Rock house with a yard and floor plan roomier for a child.
About this same time, Lozano, who hadn't had much involvement with Melinda, got upset when the little girl didn't want to spend time with him. Lozano's next move was to initiate a custody fight. It exposed a lot more than parenting techniques.
Soon, the Los Angeles Times began writing about how the Alatorres had financed their move into the Spanish-style house. The paper found that Mevorach had given Alatorre tens of thousands of dollars under the table and arranged a sham lease on the condo. Stories about money exchanges at greasy restaurants, bagmen, and mysterious new roofs tied to one of Alatorre's political contributors had a Raymond Chandler feel. When those articles subsided, Alatorre's alleged coke use snatched Times headlines.
By 1998, it was unclear whether Alatorre would survive the onslaught. The judge overseeing the ongoing custody fight ordered a surprise drug test, and Alatorre was found to have coke in his system despite his proclamation he was clean. The same judge who'd once praised the Alatorres for their care of Melinda ordered her out of their presence. Alatorre's credibility, the judge scolded, had been "totally shredded."
He'd ignited the biggest ethics scandal to hit L.A. since the final term of the Bradley administration. Bradley's plunge began when it was revealed that he was a paid adviser to a bank doing business with the city. Alatorre's crisis, by comparison, gave the public an excruciating glimpse into his narcotics use and personal relationships.
Alatorre had once vowed he wouldn't wind up like Bradley had – a broken man sadly walking away from a job after overstaying his welcome – but suddenly Alatorre was lunch meat in a media feeding frenzy. So many television news crews clogged his new front porch that a fence had to be installed. FBI agents pried into his affairs, with the District Attorney's office not far behind. Supposed friends shunned him, unaware of his sinking health or tattered finances. Family members were sucked into the chaos, as well.
For Angie Alatorre, who'd stood by her husband during the squall, having Melinda removed was the low point. She'd felt guilty that it was her side of the family that had caused her husband's spiral. The drugs, however, were his doing.
"The only time I" got angry "was when we lost Melinda because of Richard's really dumb behavior and the judge sent her to go to my mother's for a week," she recalls. "I told (Richard) that if we didn't get her back, 'I'll never forgive you for this.' I didn't have to say anything else for him to know things had to change."
The next year, Alatorre stunned his backers when he announced he would not seek reelection. He knew that while he'd probably win the election, it'd be a nasty contest that'd cut deeper into his kin. The fact that Melinda was too young to understand the fireworks above her was a blessing they didn't want to exploit.
Ridden to the ground
Today, private-citizen Alatorre looks healthier than the public one, who often slouched enigmatically at meetings in his fine suits.
Darrell Alatorre, Richard's youngest son, said many people disbelieve him when he says how vibrant his dad has become. With the pressure off, he has time for chatty lunches, USC football games, walks around the Rose Bowl, and doting on Melinda, now a high school junior. Just don't give his dad a home fix-it project because he is all thumbs, Darrell Alatorre laughs.
The late-1990s, conversely, was a wagon-circling time the Alatorre clan would rather forget. The grand jury hauled lots of frightened people before it. Darrell Alatorre lost business clients worried about the stigma. His older brother, Derrick, relocated his family out of the area to relieve the pressure. Alatorre tried reassuring his family he was okay, but he wasn't sleeping well or looking good. The stress contributed to a ruptured diaphragm requiring surgery in 1997 and 1998. Two years later he got prostate cancer. Today he's hale.
"I didn't worry about his sanity. I worried about his health!" Darrell Alatorre says. "Did I see fear in his eyes? Did he ever break down? Yeah, a couple times. Is that a picture a son wants to see in his father? No! The whole ordeal he went through was bullshit, though there was some truth to his past addiction. I remember asking him during the custody battle why he was doing all this, and he said, 'Mijo, Melinda has nowhere else to go.'"
Meanwhile, as the subpoenas and the stories about him flew, his friends and colleagues were puzzled. Why wasn't he fighting back? His inner circle was baffled that he wasn't holding a press conference to defend himself or announce a libel suit from accusations that many of them believed were untrue or sensationalized. Alatorre was a lot of things, but passive wasn't part of the package.
The Times, among other charges, had accused Alatorre's cronies of paying him off through his wife's event-planning business and charities. Where was the context about why they'd wanted the house, his backers asked. Where were the questions about why Richard was abusing? And where was the lowdown on Mevorach, who'd copped a deal with the feds, telling them that Alatorre had "extorted" him for cash when Mevorach had been currying Alatorre's favor for years?
Darrell Alatorre says he was ready to take on the Times when a writer-friend at the paper tipped him off that it'd budgeted $500,000 for stories about the family and had hired private investigators to dig up dirt. A reporter who worked on the stories says there was no such budget item for these stories and no investigators were retained.
"I couldn't believe it," Darrell Alatorre said. "It seemed such an astronomical amount of money. Later, I'd never seen the paper so demonize somebody."
Angie Alatorre says she and her husband's longtime confidante Lou Moret didn't always agree on tactics, but they thought their man should counterpunch. Moret, though, found that Alatorre just wanted out, and didn't believe blood-smelling reporters with preconceptions about ethnic politicians would listen to him.
"He didn't think he took money for anything more improper than anyone else had," says Moret, who ran Alatorre's 1972 and 1974 Assembly campaigns. "He knew he'd been treated differently, and partly that's because he's Mexican and partly because of his reluctance to sell his viewpoint, philosophically. That's how the cookie crumbles … . Richard wasn't forced out. He wasn't defeated. He wasn't recalled … . But for the L.A. Times, he was an easy target."
For his part, Alatorre says it wasn't until he left office and reflected back that he realized his spin into coke, self-doubt, and silence had been building for 30-odd years.
Early on April 15, 1964, Alatorre's first son, Derrick, was born at a Boyle Heights hospital. Ten hours later, the ecstasy crumbled when Richard's father suffered a heart attack while painting a crib for his infant grandson and died. For Jose's boy, the loss was ironic, wrenching, and most of all, lasting.
Jose Alatorre, stove repairman and seventh-grade dropout, had always preached hard work and keeping personal problems private. While stoic, he prized ideals. If the national anthem were playing on TV, he'd make young Richard stand, though he didn't always.
In passing away so abruptly, Jose never saw his string-bean son, then 21, mature from a student leader with a 60-hour-a-week job to one of the nimblest minds in a mostly white state legislature. Nor was he around to dispense wisdom when Richard's weaknesses roared.
"I never knew how much I blamed my dad for dying," Alatorre confides. "It forced me to become something I wasn't ready to be. I had to become head of a household, but I was still a kid. I had no constructive outlet for being hurt later in life. You don't stuff things down in your soul and expect be happy."
Alcoholics Anonymous helped open his eyes, and he accepted that his addictive personality had shown even at age 14, when he chug-a-lugged some wine. By his 20s, liquor quieted his rage. He finally quit in 1988 after getting treatment, not allowing himself to lapse when the graft investigations revved up.
It was the drug all over L.A. – cocaine – that he sought. (Drugs, it's worth noting, are the one subject Alatorre refuses to detail except to say stories about him snorting at City Hall or with a buddy looking for city contracts were mostly false.)
"Through AA, I now understand I am a grateful alcoholic," he says. "We're not normal. A normal person can have one drink and not 10-to-15. I know that if I took one drink, the run would be on … . I had so much happening in my life then, when the [stories hit], I didn't know I was powerless."
Nor, some say, did he realize his baggage was slowly entombing him.
"He started locking out friends who would've told him, 'Don't do that! What the fuck is wrong with you?'" Moret adds. "He became a refugee. He wasn't making the right decisions. He got in trouble because he's an addict. Even when he was drinking, it wasn't because he liked it. It wasn't wine or fine Scotch he used. It was Seven-and-Seven. Who drinks that?"
The Al Capone treatment
Thick pride may have also contributed to his troubles. By 1996, Alatorre's machinations to funnel government work to Hispanic-run ventures struck many as heavy-handed, as did his connections to the East Los Angeles Community Union, Corboda Corp., and various MTA contractors seeking a piece of a $1-billion rail line through his district. Newly elected Council members didn't fear him as others once had. In what turned out to be his last campaign, a political novice forced him into a runoff.
"He didn't want to give his detractors the pleasure of seeing the mighty stag taken down," says Jones, the Pasadena activist. "He didn't want to let folks in on the pain, and maybe that got him into trouble. Fidel Castro said in his famous speech: 'You can find me guilty, but history will absolve me.' When you look back at this period, people will appreciate that Richard didn't cry when his enemies kicked him in the ass, but I guarantee you that his boots were full of blood."
Even after he left office, the bloodletting continued. When Alatorre was lined up with consulting work typical for ex-politicians with the L.A. Department of Water and Power and the Compton Community College District, the Times wrote about it, and officials nixed what could have been $70,000-a-year in income. A $114,000-a-year post with a state unemployment insurance board ended, too, when Alatorre settled with the Justice Department.
His legal-defense bills topped $100,000, and to pay them he had to bust open his IRA and pay a $100,000 penalty for early withdrawal. This somewhat undercuts the notion he'd been stashing away money as a guy-on-the-take, as detractors suspected; there were no secret bank accounts. Because he'd always spent what he made, Alatorre says he "didn't have the luxury of not working" and launched his consulting business.
Dine with him and you glean four things: His cell phone never stops jangling, he wolfs bacon like air, and he can spice cuss words into the most delicate topic. The other f-word – "felon" – he doesn't use. The idea that he is one scalds him. It just doesn't seem to obsess him.
If he has any satisfaction about his demise, it's that a four-year, federal-led investigation of his links to people trying to buy his influence did not result in a major corruption charge. Instead, he pled to not disclosing $42,000 in illicit income on his ethics commission and tax filings. Some call this the "Al Capone" treatment: nailing a high-profile figure on a relatively incidental charge. No other big fish was nabbed, either.
"By prosecuting me, I was making somebody's career," Alatorre says. "We ran the city – me, Zev [Yaroslavsky], and John Ferraro – when Bradley was in trouble. Even the Times said that. But certain people did not feel like I was the kind of guy who should be mayor, and what's ironic is that I never wanted that."
Maybe not, but that doesn't mean he's short on ideas about how to get it. Still very much on his game, Alatorre will unleash a torrent of expletive-laden opinion about this year's race. And if he's really talking to Villaraigosa as much as he says he is, current Mayor Jim Hahn's ears are burning.
"Jimmy is like the T-ball mayor. I go back to when Jimmy first ran for City Controller, and I had the distinct impression he fell into politics. It's not where his gut is," Alatorre says. "Jimmy is a very honest guy. It's just that he's always around the edges on issues. If you asked his ex-aides, they'd say he's lazy. He doesn't live and breathe politics like his sister [Councilwoman Janice Hahn] does. [Former Gov.] Gray Davis was evil. He was driven. Jimmy isn't driven. He's just blah."
Alatorre does sees promise in Villaraigosa, saying, "I recognize Antonio's shortcomings, but he has the best chance of getting done what L.A. needs," adding: "We need someone who will work well with the City Council and Sacramento, someone who will get L.A. the goodies."
For instance, he notes that Hahn hasn't even taken advantage of L.A.'s respected police chief, William Bratton, to get more cops or anti-terrorism money. "Bratton likes the notoriety here, but he's so far up Jimmy Hahn's butt, and Jimmy is so far up his, neither of them can see … . If I were mayor, I'd go put my arm around President Bush and say how much I liked his dad if it got us resources."
That is the kind of thinking that got results, and both the residents who recognize him strolling down Garfield Avenue and the powerful remember. Sympathy is another thing.
"Richard Alatorre was clearly the smartest guy on the City Council when I was there; I admire and love him, but I don't feel sorry for him," says former mayor Richard Riordan, now California's Secretary of Education. "Judge him as he is today. [After all], we forgive murderers."
The family's saga has ended better than any of them could have imagined four years ago – happily. Alatorre has work aplenty and time with his family. Melinda, now a spunky teenager, worships "pops," as protective of him as he is of her. Henry Lozano is a non-factor in their lives. The family even reads the Times.
There probably won't be a beach-house he had dreamed about as a young man, but c'est la vie.
"I wake up in the morning," he adds, "happy to be alive."
L.A. CityBeat published a nearly identical version of this story. Copyright Chip Jacobs