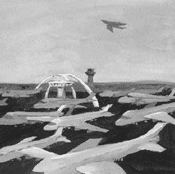 When City Controller Laura Chick found evidence of shady contracting at Los Angeles's airport department during a routine audit, she didn't merely hand prosecutors a tantalizing lead. She peeled back the veil of power around mayor-appointed commissioners who not only shoulder policy decisions, but are also expected to raise the funds that oil L.A.'s political machinery.
It's the way business gets done in this town.
Commissioners, many of them prominent lawyers and developers in their day jobs, are brought on board to help raise campaign cash for causes dearest to the mayor's heart, his reelection often at the top of the list. Companies on the city payroll – or hoping to be – pony up to keep in good stead, though there's usually no documentation about which appointee asked for the check.
Chick, a former San Fernando Valley councilwoman, cast some rare sunshine on this pipeline with her critical review of the agency that operates Los Angeles International Airport and the city's three smaller airfields. In October, she turned over paperwork of "potential illegal acts" to local, state, and federal investigators, the first time in 60-plus audits of city departments where she'd taken that step.
Particularly alarming was the practice by several unnamed airport commissioners of sitting in on staff-run contract evaluation meetings that precede board deliberations. In several instances, auditing showed there was little or no backup to support why $100,000-plus contracts were awarded to one firm over other bidders. Chick said commissioners sometimes walked out of those evaluations and voted in what amounted to a rigged deal.
"Policies and procedures were out the window," Chick explained in an interview with CityBeat last week. "What raised my concerns and my auditor's is how many people were eager to talk about issues and instances where they felt something was wrong. People inside and outside the airport were coming out of the woodwork. The perception is that you have to pay to play [to get contracts] … and the perception in recent years has been the reality."
In the middle of the dust-up is Ted Stein, president of the Los Angeles World Airports board that awarded more than $300 million in private-sector work last year. Stein is a developer and mayoral confidante going back to the Richard Riordan administration. He allegedly pressured several large engineering companies to donate to the anti-Valley secession campaign that Hahn backed or face interference next time they came seeking work, a fall Los Angeles Business Journal story reported.
Stein has denied any wrongdoing and airport officials said he had no comment. There are murmurings he may resign. Officials from URS Corp., one of the firms he allegedly tried arm-twisting for a donation before executives there spurned him, did not return calls.
Even so, outfits with airport work recognized that helping the mayor defeat the Valley's breakaway effort was money well spent, according to veteran airport lobbyist/consultant Barna Szabo. He didn't know details of the URS situation.
"The contractors felt that if they were smart in doing business in L.A., they better participate in the anti-secession movement," he said. "Obviously, it looks good if they are on the same side as the mayor and the commissioners. And when Ted Stein comes into a problem, he has a very strong sense of political ambition about making things happen, whether it's helping the mayor get elected or the LAX master plan."
More and more, however, the airport is resembling Jim Hahn's private Iraq. Not only has he had to defend contracts awarded, he has yet to muster grassroots support for the $9-billion modernization of the airport he says is needed to handle passenger growth and terrorist threats. And he must do it an era of shriveled budgets that have choked off other transportation projects. He would certainly not be the first mayor to see dreams die at LAX. Tom Bradley's reputation was tainted there because of minority-business fraud traced to his cronies. Riordan was never able to leverage airport revenues to put more police officers on the streets. He also had his own embarrassment with the short-lived contract given to former Clinton administration advisor Webster Hubbell.
Damning Testimony
In a city where the political intrigue is usually as temperate as the weather, Chick's audit spun off a number of fascinating sidebars.
First, District Attorney Steve Cooley is gumshoeing around. A county grand jury has already heard testimony from Troy Edwards, Hahn's deputy mayor in charge of the airports and one of his top election fundraisers. A lobbyist allegedly pressured to secure an LAX concession contract for the relative of a City Hall insider also testified.
Cooley's involvement resonates, if only because of the longstanding impression that white-collar crime isn't heavily prosecuted in L.A. When the county's $3-billion subway project nearly disintegrated because of backroom deals, shoddy construction, and naked money grabs, not a single major politician or construction exec saw any jail time. The man lambasted for failing to prosecute dirty contractors, Gil Garcetti, now sits on the city's Ethics Commission.
Seeking cover from the fallout, Hahn temporarily banned his commissioners from any fundraising three weeks after the audit results were announced. The issue won't fade, though. Council members Cindy Miscikowski and Wendy Greuel have proposed a full-blown prohibition against it. Debate is grinding ahead with momentum provided Tuesday when the Ethics Commision recommended the ban. Under current rules, commissioners may not seek money from entities that have done city business in the last year or have pending bids. Nonetheless, there are no requirements for commissioners to disclose their fundraising activities, so it's hard to know whom they're contacting, among other loopholes.
Some say halting appointee money-gathering abridges First Amendment rights. Others who have been around City Hall say it's a sacrifice for the greater good and would only apply while a volunteer served on a commission, be it fire, police, animal services, civil service, or the airport.
"The action of fundraising sends the wrong message to those who do business with the city or those who are civically engaged," said Ethics Commission Executive Director LeeAnn Pelham. "The message is that it takes fundraising abilities to become a commissioner or the ability to respond to fundraising appeals to get or keep city business."
In the past 12 months, Stein has hosted a fundraiser for Hahn, as have appointees serving the redevelopment agency, the recreation and parks department, and the planning department. Thanks in part to that, Hahn has $1.3 million in his campaign war chest, double what he'd accrued at this point last election.
The agencies that run the airport, the harbor, and water and power are big fish when it comes to donations, because of the size and scope of the contracts they oversee and their quasi-independent status to shape their budgets. They are akin to colonies. In 2002, DWP controlled a $528-million operating budget, Los Angeles World Airports about $400 million. Add in construction budgets and it gets into the billions of dollars.
"One of the issues I see is the same commissioners getting recycled by the different mayors, getting round-robined among the harbor, DWP, and airport commission," Chick added. "Does that sound like a citizen commission to you?"
Copyright Chip Jacobs