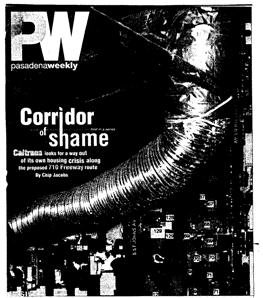 Despite repeated calls for it to either repair its properties or unload them, Caltrans has continued to allow many of its rental homes along the un-built Long Beach (710) Freeway extension to wither into battered, mothballed shells that draw crime and a slum-like aura to their neighborhoods.
People renting state-owned housing face pest infestations, corroded plumbing, leaky roofs, rotted floors, exposure to mold, and possibly lead paint, among other defects. Scores of renters complain their houses are unsafe and blame it on either slapdash repairs or California Department of Transportation's (Caltrans) claims it exhausted its maintenance budget.
Altogether, about a quarter of the parcels the department owns along the corridor remain so dilapidated they can't be leased or languish as empty lots, depriving local government of several millions of dollars worth of yearly rental income, property taxes or badly needed affordable housing, records show.
Forty or more Caltrans dwellings stand vacant in Pasadena alone, the majority of them with landmark status within blocks of pricey Orange Grove Boulevard. Often poorly secured, the houses have been vandalized by indigents, would-be squatters, contractors, even devil worshippers, according to neighbors and police.
Meanwhile, some historic homes that have undergone $500,000-plus renovations are still faulty, so they are boarded up and left unoccupied.
From grand Victorians and Spanish-style bungalows to nondescript apartment buildings, the dwellings are part of 587 units that Caltrans owns through Pasadena, South Pasadena and the northeastern Los Angeles enclave of El Sereno. The department acquired the bulk of them from their original owners decades ago in anticipation that the extension between the Long Beach (710) and Foothill (210) freeways would be constructed, but fierce opposition, particularly from the city of South Pasadena, has stretched it out into a heavily litigated, 40-year fight. Trapped in limbo, all the state can do with the units is lease them.
Still in Caltrans' possession are 21 homes valued at $5.7 million that the agency formally declared outside the proposed spur's footprint in 1995 but have yet to sell, as state law requires. A number of groups, including Pasadena City Hall, contend the number of "surplus" houses or potentially unneeded ones may be dramatically higher.
John DeSoto, a Caltrans tenant from El Sereno and that community's former honorary mayor, believes legal action is long overdue.
"At my house, I have faulty electrical connections, plumbing that doesn't work, drains that spill out into the carpet and mold on my walls," he said. "You slide the windows and they fall out. Caltrans attitude is, 'If you don't like it, move!' Bitching won't make them fix it until we can get them into court as slumlords, and that's what they are."
A New Look
A number of tenants praised their rental agents as hardworking, resourceful public servants who are often frustrated themselves by management decisions. The Weekly, for example, found one case where a renter evicted from her Caltrans home for allowing drug-dealing there was awarded nearly $200,000 in relocation benefits.
State upkeep of its real estate is etched into the law. The July 1999 federal injunction won by South Pasadena halting significant freeway work requires that Caltrans maintain their properties in "conditions of good repair." It also exhorts the department to keep them rented to preserve "community standards" and deter vandalism.
The Federal Highway Administration's "Record of Decision," a capstone document that spells out the $1 billion extension's exact 4.5-mile route and how it will be trenched to soften community damage, says the state must "properly maintain" its homes.
Eight years ago, after a Los Angeles Times expose on Caltrans property lapses, local elected officials and activists implored the department to tend to its shoddiest places or turn them over to someone who would. Since then, the state's progress doing that has been spotty at best. The biggest improvements appear to be some new paint jobs, locks, and freshly mowed lawns.
Plenty have been critical of the agency's perpetual neglect. Caltrans executives have been ripped in two state audits, one that concluded they bumbled a $20-million renovation job of their historic houses that overhauled only 39 of 92 dwellings. An agency-issued survey of its own renters found 170 tenants responding they had maintenance issues, and 27 who didn't.
Caltrans has also been tagged with health code violations in spite of the department's staunch immunity assertions. Pasadena code inspectors, for example, cited eight Caltrans' houses for problems that included leaks, vermin, inadequate water pressure, overgrown vegetation, missing smoke detectors and exposed basement asbestos, records show. The eight cases, five of them deemed major violations, have since been resolved.
Some critics, including Pasadena-based attorney Chris Sutton, believe the department would have "hundreds" of health and building-code violations if cities got aggressive about prosecuting them.
Just this spring the department was sued by a renter who claimed she developed acute asthma and other ailments as a result of being exposed to "extensive mold growth" and other toxins at her Pasadena Avenue rental. Lizz Wolf contended in her Los Angeles Superior Court suit that she pleaded with Caltrans to remove the growths in August 2001 but the agency responded weakly or not all. Caltrans officials say they don't comment on pending litigation.
One South Pasadena tenant who previously won a judgment against the department for wrecking her possessions with dripping hot tar during a re-roofing job has been living for four months with improperly draining toilets as well as a hungry rat on the loose.
Tired of the agency's excuses, she finally called the county Department of Health Services. It has issued Caltrans a notice of violation for plumbing, cracked surfaces and rodent abatement.
"We respond to all complaints concerning residential sanitation," said Terrance Powell, the county's chief environmental health specialist. "It doesn't matter who the landlord is."
Douglas Failing, Caltrans' top official in the corridor, acknowledged improvements needed to be made when he took over the post about seven months ago. Under his guidance, he said, maintenance has been bolstered to ensure the houses are "safe and sanitary."
"I think we are getting to be a better landlord," Failing said. "There were predecessors before me that weren't as focused, and didn't have staff as focused. … That's why we are spending as much as we can."
The majority of the renters' complaints, he said, do not involve habitability issues. His staff responded to about 4,500 repair orders last year.
Exit strategy
Newly obtained records are shedding light on Caltrans' real estate finances. In 2001 and 2002 it took in $7.9 million in rent from its 710-extension tenants, plowing back $4.49 million on maintenance such as plumbing, carpentry and flooring. This year Caltrans is on track to earn a record amount of rent. The differential between revenues and expenditures is returned to state and local government coffers.
Historically, many longtime tenants have lived with the problems, spending as much as $10,000 of their own money on repairs, because their rents were priced in the affordable range. Some hoped to purchase the houses at steep discounts under state law giving them that option if their place was declared surplus or the entire project was scotched.
But when Caltrans decided to raise those rents to fair-market levels, in some cases increasing them 25 percent a year, howls of protest arose. Tenant activists accused the agency of employing a ham-handed eviction strategy to "depopulate" the area so the houses would command higher sales prices. Caltrans, they said, tried justifying their new rents by comparing them with housing costs from upscale neighborhoods without their chronic traffic, crime and upkeep issues.
Failing countered that the department was only doing along the corridor what it had done throughout California: charge market rates to achieve neighborhood parity. For reasons he wouldn't elaborate on, Failing said his district "fell behind" in implementing that policy, and said even with the hike, more than half the houses would remain in the affordable category.
Ironically, tenants' dreams of buying their houses — affectionately known as "the promise" in the tenants' lexicon — may be closer to pay dirt than it ever has been.
Caltrans executives have drafted a document called the "exit strategy" that outlines abandoning the roadway for more feasible alternatives, be it the recently proposed tunnel concept under the same route or a series of street-level traffic-softening measures, multiple sources have told the Weekly. Agency managers are purportedly waiting for the green light from Gov. Gray Davis and Caltrans Director Jeff Morales to announce what would amount to a delirious liberation day for many and a betrayal to others.
Why the change? Years of bitter wrangling, lawsuits, the prospect of having to acquire another 500-plus homes and the uncertainty of securing a huge amount of money for such a controversial spur in a lean, post 9-11 federal funding climate have congealed into a potent deterrent.
"I had a conversation with Jeff Morales and he said let's either find a way to move forward or drop it …" said Mark Pisano, executive director of the Southern California Association of Governments. And "I have heard the rumor about the exit strategy. Have I been able to substantiate it? No."
Pisano cautioned that the 710-extension remains the number one unfinished transportation project in the SCAG clean-air plan, and doing nothing about north-south traffic and a resurgent smog problem is a nonstarter.
Whatever the catalyst, Pasadena officials have been maneuvering to buy some of the Caltrans properties within city boundaries.
Just shameful
Pasadena Mayor Bill Bogaard, City Manager Cynthia Kurtz, Planning and Development Director Richard Bruckner and the city's lobbyist, Ken Emanuels, met in Sacramento in July with state housing officials and a lawyer from the advocate group, the Western Center on Law and Poverty, documents show.
The city was testing the waters about modifying the landmark 1979 Roberti Act, which governs the sale of state property no longer needed for highway construction projects to low- and moderate-income tenants. By amending that law so they moved ahead of other potential buyers, Pasadena officials hoped to purchase 41 homes from Caltrans at their original price, relocate tenants from any occupied dwellings in that batch, and then sell the houses at market rates. Proceeds estimated at $12 million would have then seeded an affordable-housing trust fund.
Notified of that bid, Assemblywoman Carol Liu, D-La Canada Flintridge, and tenants contested it. Pasadena officials have since promised not to undercut the rights of existing renters — unless they reside in large homes the city says would saddle new owners with burdensome upkeep payments.
Besides the 41 targeted homes, there was some nervousness that Pasadena actually coveted all 145 Caltrans homes, and there are indications that was in the city's plans. The city last December, for instance, packaged a glossy binder with digital pictures and basic information for every Caltrans property within city limits. A city real estate agent has also been lurking about.
"I think Caltrans acknowledges they are a terrible landlord," Bogaard said in an interview. "I'd hope something could be done to move the houses out from their ownership. Some will choose to buy. Some of those houses are suitable for affordable housing." But, he said, "I'd be hesitant to offer a 5,000-square-feet house to someone of modest means."
The tenants were so rattled by the city's actions it hired the law's author, former California Senate President Pro Tem David Roberti, to represent them. Roberti is now in private legal practice.
"A lot have suffered through Caltrans ownership," Roberti said. "This problem has to be solved by the city as a whole, and not finding a group of victims and achieving affordable housing on their backs."
Bird-dogged by Liu, Caltrans agreed to extend a rent freeze until July but haven't participated in a rent task force because of disagreement over its mission. Since then, Liu and fellow Assembly member Jackie Goldberg, D-Los Angeles, have kept pushing on the rent issue.
In October they received an opinion from the state's legislative counsel that concluded the agency has the discretion but not the obligation to charge market rent for the homes in question.
Liu, unable to extract property information from the agency, also introduced legislation, Assembly Bill 21, to put a moratorium on the rent increases and evictions until 2005 and establish a task force to hash out the situation.
"We wrote this bill out of frustration," Liu said. "We ask Caltrans for information and they stonewall us. Regardless of where this bill goes, there is a movement to take these properties from Caltrans' control and let the housing department or someone else manage them. I want to give them the benefit of the doubt, but they haven't shown too much ability managing their property. It's shameful."
Down for the count
On an otherwise picturesque block of million-dollar homes, the deserted structures on the eastern flank of Pasadena's Wigmore Drive have seen better days.
A vacuum cleaner extension hose serves as a makeshift downspout at one ranch-style house and a palm tree grows between the steps of a splintering porch with boot-sized holes in it. At least the front lawn has a purpose: a city garbage truck makes U-turns on it.
Next door another empty Caltrans house shows the scorch marks under the roofline from a 1997 fire — one of about a handful of blazes that started at 710-properties. Out back, the overgrown yard is peppered with old shoes and cast-off piping.
On the north side of Wigmore, a 1924-circa abode designed by respected architect Wallace Neff isn't the showpiece it once was. The windows are boarded up. The paint is chipped. Water is pooling on the floor. A former tenant says intruders have trashed the place repeatedly.
Nestled up against the Neff house is another empty Caltrans house. Years after the police staged a drug bust there, a vagrant once took up residence in a garden shed piled high with dank clothes and rubbish. Within reach were the carcass of an old BMW and some chemicals. (Caltrans cleaned up the yard between the Weekly's visits there.)
South Pasadena, where officials say they have forced Caltrans to better manage its homes, is hardly immune. A white Fairview Avenue house with boarded French windows and dangling wires features a wide-open back door. A Glendon Way house with peeling front steps has an easily accessible backyard and a pool whose bottom stagnates with brackish water.
The state-owned homes a few miles south in El Sereno are a mélange of contrasts. Most are densely packed Spanish-stucco homes that outwardly appear tidy. Drive around, though, and there are blue tarps covering damaged roofs, a soda machine propped on a lawn and the hulks of dead cars tamping down tawny weeds.
There are also seemingly habitable properties that sit idle. A ground-floor unit of a two-story apartment on Lowell Avenue has fresh paint, newer carpeting, yet no renter. A tenant at the complex there said it's been empty for years.
On nearby Maycrest Avenue, Caltrans' eight-bungalow complex has slid from being vacant to being brazenly vandalized in the years since the tenants left. Gang markings adorn the sides of the houses, and someone has sliced a hole in the chain-link fence. As with other Caltrans homes, the plywood boards nailed over the windows haven't repelled visitors.
One bungalow decimated by fallen stucco, a putrid toilet, reeking junk and heroin paraphernalia was someone's flophouse. A dazed homeless man with some of his family was recently living in another unit.
By Caltrans' tabulations, it owns 59 "non-rentable vacant properties" like these, a decrease from 133 uninhabitable units in late 2000, according to a report US District Judge Dean Pregerson requires the agency to submit every six months. (The department was late filing the last report.)
Asked to explain the drop in vacancies, Caltrans spokeswoman Deborah Harris said a number of historic houses and apartments have been fixed up and leased. The agency has a marketing program to get other homes rented, as well, she said.
'It's not safe.'
From trespassing and drug-use to gang parties and religious rituals, unoccupied state-owned houses act as crime magnets. Some renters have grown so frustrated about it they have written fact-chalked letters, called the police themselves, shot videos and spoken at public hearings to get attention.
Pasadena Police responded to 296 incidents at agency houses during a 39-month stretch ending in December of last year, records show. Many of the calls were for false alarms or suspicious circumstances that never merited an arrest. Still, one empty house in the 600 block of St. John Avenue drew officers 24 times in 2001 alone.
Acting Police Chief Wayne Hiltz disputed some tenants' characterization of the properties as a "high crime area," but acknowledged empty houses invite troublemaking. "Any time you have vacant properties," he said, "they are potentially used for inappropriate activities, and it doesn't matter if it's a Caltrans property or another. The fact there are a number in a close proximity compounds it."
Where the Foothill Freeway dead-ends at California Boulevard has been a particular hotspot. Tenants have witnessed pie-eyed teenagers, prostitutes, runaways and homeless staying in the empty houses or garages. One pony-tailed indigent who locals call "Freeway Bob" because he panhandles near off-ramps was blatant about his comings and goings into one of the historic houses.
Pasadena police in January 2002 apprehended a man and his newlywed bride who had their own keys to a Caltrans duplex on the south side of California Boulevard. Neighbors said the couple had moved in their furniture, staying there unnoticed by authorities for months, under the belief they could attain squatter's rights.
When the police arrested them for trespassing, they turned up a shotgun, shotgun shells, ammunition for a .45-caliber handgun and a knife, said police Commander Marilyn Diaz. She said it appeared they were in legal possession of the weapons, adding that Caltrans gave the couple a week to move out.
John Kvammen, a leader in the tenant group and a Caltrans renter for 30 years, said one house near his dwelling on St. John had vagrants living there for two years despite his insistence the agency oust them. Before they left, they created waist-high trash, did hard drugs, shattered an antique mirror, among other damage.
Kvammen recalled stopping a homeless man in the late 1990s after the man had tossed a chair through the living room plate-glass window of the property, which has since been rehabbed and rented.
"My son and I told him we were calling the police and the guy dropped his pants and crapped on the sidewalk — it was an unexpected reaction," he said. "There are all kinds of seedy characters around here. It's not safe."
Drive-thru pharmacy
Close to his rental is a vaulting, historic three-story Craftsman that has been vacant since March 1990. For years it was known among neighbors as the "devil house" because the nine in the facade-displayed street address number had capsized to make it read "666." Adding to its legend, a band of youths a few years ago gained entry. Inside they did drugs, lit candles and performed demonic rites, numerous people recall.
Caltrans officials could not confirm that report. The agency has spent $608,000 repairing that four-bedroom house and plans on trying to rent it this month.
"I remember being in there and being alarmed about the nature of the graffiti because there were satanic images," said Sue Mossman, executive director of the preservationist group Pasadena Heritage.
"The intruders had [also] pulled out a bathtub and thrown it down the stairs. Our fear is that after millions of dollars have been spent in these historic houses, if they are vacant all that mayhem could happen again," Mossman said.
Trespassers last fall snuck into the childhood home of famed chef Julia Child by crawling through a small entry. California Highway Patrol officers called to the scene never arrested anyone but believe the entrants were in the elegant brown manse for a while.
Caltrans officials say they have hired a private security to watch over the empty residences. Until recently, the agency did not prosecute trespassers.
On Pasadena's Hurlbut Street, a two-bedroom Craftsman built in 1911 and unoccupied for years sports a tangled yard, paint-splattered hardwood floors and a dicey history. The woman who sold it to Caltrans later rented it back from the agency. By the late 1990s, Pasadena police knew it well. They responded four times for outstanding warrants, public intoxication and a domestic dispute.
In June 1998, armed with a search warrant, police launched a SWAT-style raid, arresting the mother, one of her sons and another person for selling methamphetamines, among other charges, Commander Diaz said. One source said residents there used to sell narcotics out the side window like a drive-thru fast-food restaurant until the arrests.
Citing that incident, Caltrans evicted the woman from the property. However, because she'd been renting prior to 1981, she was entitled to relocation benefits for homeowners displaced as a result of federal projects that benefit the public. The woman, whose name the Weekly agreed not to reveal, received $195,967 — the difference between what she originally sold her house for and what it would cost for her to buy a replacement in the market at the time of the eviction.
A neighbor who had previously complained to Caltrans about the drug pushing there, as well as an earlier shooting he claimed was "hush-hush," said the state slapped a new roof on that house before the woman left. His house, meantime, has been bedeviled by poor water pressure, a multiple-layer roof cracking the walls and a wood-rotted back porch his wife's foot recently fell through. In his years there, this tenant said he has stomped out two fires set by vagrants at nearby Caltrans properties, chased away scores of rats and witnessed a series of "Mickey-Moused" repairs, including one where rain-gutter downspouts were installed upside-down so they splashed anyone sitting on his back porch during rains.
"The problem is that Caltrans' management is inept," said the tenant, who spoke on the condition his name not be used because he feared possible retaliation by the agency. "It seems every time you get a decent right of way agent, they're promoted or moved to another department and replaced by somebody who doesn't know what they're doing or doesn't seem to care. Nothing that is important seems to get done. What can you do? The state is the landlord."
A re-emerging issue is whether that landlord is sitting on property it doesn't need anymore to build the extension. Selling unneeded land was supposed to be a priority. A May 9, 1995 directive from former Caltrans Director James W. Van Loben Sels obtained by the Weekly said: "It is imperative that Caltrans divest itself of any property not absolutely required. We should be looking at reasons to dispose, rather than retain property."
But how many can be disposed? Caltrans itself has conflicting data depicting between 21 to 38 unneeded properties, including four houses on Pasadena Avenue that were supposed to be relocated during construction that are now up for sale, freshly released records show. A reason for the variation could be the compression and slight shifting of the freeway footprint that the agency agreed to in the Record of Decision. Unchanged by that, though, are three Caltrans houses north of California Boulevard in Pasadena that appear outside the pathway. The agency asserts those structures will be demolished for a realigned access road should the spur go through, but the maps don't signal that.
State law requires that Caltrans offer properties for sale within a year of the time they are declared surplus; of the 56 parcels they announced in 1995 weren't needed anymore, 35 have been sold. Assemblywoman Liu and others have grumbled agency officials have dragged their feet selling what they must.
The Pasadena Weekly published a nearly identical version of this story, the first in a three-part installment called "Corridor of Shame." Jacobs and Richard Winton co-wrote that L.A. Times story mentioned above. Copyright Chip Jacobs