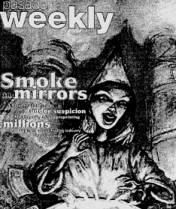 For local smog regulators, it is a mess they would prefer vanish with the bad air. For some companies wrestling to get their money back, even a little attention is ticklish, as well.
Anne Sholtz, the Pasadena smog broker at the center of the commotion, is the least favorite topic for a lot of folks in the Southern California emissions-credit business these days. Yet, the subject just won't fade away, partly because she was akin to the Martha Stewart of her niche and partly because of the magnitude of her alleged fraud.
Peter Mieras, the prosecutor for the South Coast Air Quality Management District, indicated his seriousness about the matter Feb. 7 when he won board approval for an additional $150,000 to continue what he wrote were "two sensitive enforcement matters." Though Mieras was mum about the targets, at least one of those cases involves Sholtz and her now-broke companies — Automated Credit Exchange and EonXchange – sources said.
The AQMD and the U.S. Environmental Protection Agency have been investigating her since July in the largest trading scandal ever to wrack the Regional Clean Air Incentives Market (RECLAIM). Some believe a federal criminal indictment will eventually be filed against the thirtyish Midwestern native. A bankruptcy proceeding is paralleling those inquiries in downtown Los Angeles, where some 150 creditors have staked $54 million in claims. Among them are Reliant Energy, American Airlines, Northrop-Gruman, the city of Burbank, Richard Riordan's former law firm, the government of the Netherlands and Victoria's Secret.
Perhaps the most fascinating subplot to her story is the near-total silence from clients like these along with the raft of government officials, academics, co-workers and attorneys with long histories with her. Some appear disgusted with her — and their own naiveté. Others hope for anonymity and some money back.
Among other accusations, three former customers have accused Sholtz of siphoning away more than $25 million in emission credits that were supposed to be held in earmarked accounts for them. One of the companies, New York-based energy trader A.G. Clean Air, has charged her and an unidentified associate of impersonating Exxon-Mobil executives to advance her scheme. Neither A.G. nor Exxon-Mobil, however, has said anything publicly about it.
"The big companies won't comment because they're embarrassed they put all their money into this person. They don't want their shareholders to know about it," said attorney Lawrence Young. He represents Donald Gregg, a Pasadena financial investor who claims to have invested and lost as much as $5 million to Sholtz, some of it after her companies went bust but she allegedly failed to disclose it. "I'd say she developed the Enron culture before there was one."
Sholtz has not commented for months. Robyn Sokol, her bankruptcy attorney, did not return repeated phone calls.
Amid this hush, there are more opinions than hard facts. Was RECLAIM too reliant on the honor system for credit transfers and market information, thus inviting exploitation? Did Sholtz have any help inside tipping her off to opportunities? Was she running a "Ponzi scheme" under the guise of emissions trading, as the bankruptcy trustee has said, or was he swindled by a dishonest former employee as she has previously asserted? As to whether her actions dinged RECLAIM or inflicted structural damage, sentiments run the gamut.
District officials themselves no doubt feel mortified by her, if not betrayed. Since RECLAIM started, no broker has been as synonymous with the bellwether smog-exchange as Sholtz and no one has face-planted harder.
Still, the governing board has been relatively mute about her situation; they approved the $150,000 infusion without discussion as a pro-forma matter. AQMD board chairman William Burke declined comment about her last week.
His agency does have other distractions. They have taken on the dry cleaning industry and the ports. Air pollution levels have surged. And RECLAIM must be revisited soon to decide whether to allow the power plants back into the fold.
When regulators a decade ago were contemplating how to harness Wall Street-style incentives to get large Southland polluters to dramatically reduce two smokestack emissions, Sholtz's made a name for herself. Hungry for market-structure ideas, the district hired the Pacific Stock Exchange, and they in turn partnered with the Caltech Institute of Technology's efforts in that field. Sholtz was at Caltech then as young economist, and helped devise a system where half the credits would expire Dec. 31, the other half mid-year to ward off price volatility and paperwork chaos.
"She was a very important member of the team," recalled Dale Carlson, vice president of the Pacific Exchange. "She was the one of the smartest people I've ever met."
By the mid-1990s, Sholtz was no longer just a policy wonk serving on working groups and penning white papers: she was a go-getting smog broker with notions about exporting RECLAIM-type markets to other U.S. cities and abroad. A whiz with computers and marketing, she set up shop in hip, Old Town Pasadena. Favorable media stories were written about her by national publications. One of her sales-pitches was her use of high-end, decision-making software developed by Jet Propulsion Laboratory engineers for their "Cassini" Saturn mission; that software purportedly ensured clients the most favorable trades. Linking herself with recognizable institutions, including Caltech, she got the Pacific Stock Exchange and Bank of America to serve as her trade clearinghouses.
A few years later it'd paid off with prestige and lifestyle luxuries. She built an 8,000-square-foot estate with koi ponds and guesthouse in the exclusive gated community of Bradbury overlooking the western San Gabriel Valley. (The bankruptcy trustee recently forced the sale of that house with a $6.8 million asking price.)
Sholtz was a regular out at the agency that, professionally speaking, catapulted her. Her ties go back so long she was at the AQMD's Diamond Bar headquarters when Jack Broadbent, currently the EPA's Director of California air programs, oversaw RECLAIM for the air district.
"The alleged activities are so hard to believe," Broadbent said in a recent interview. "There is a sense of shellshock. There's also a sense the process that has to move on. What may come out of this is a lot more scrutiny over the brokers." Investigators, he added, are "trying to uncover who was involved," and that may account for the lack of discussion.
Because of her deep ties with the district, Sholtz still has contacts there. This summer, for instance, an employee stole a fax this reporter sent to district executives and relayed its contents to her. Air quality officials never uncovered who swiped the transmittal.
Those traders and investors who are willing to speak say they can't fathom where the money went or why such a driven businesswoman felt the need to fabricate things. Many were led to believe she held an economics doctorate from St. Louis Washington University when in fact she doesn't have a PhD there; that assertion that could put her in legal hot water if it was material in any crimes.
Another open question is her dealings with a mysterious, smooth-talking financier named Jimmy Keller who used to work out of her old Raymond Avenue office and may reside in Texas today. He has piqued investigators' interest.
Sholtz, in an April email to her original seed investor, Wisconsin physician Jerry Kallas, wrote this about him: "We fired Keller over two years ago. (He) was not ever arrested, or even picked up for anything, although our attorneys are considering whether to charge him … ACE had nothing to do with anything securities related ever."
Kallas said he never expected any of this, and thinks Sholtz should spend time in jail if criminal charges are proven. "She put forth a very professional, cordial demeanor and created a sense of trust," he said. "That's what you'd see in a scam artist."
Instead of lumbering rulemaking and enforcement, RECLAIM relies on flexibility and the profit motive. It allocates credits granting 350 of the region's biggest corporate polluters and powers generators the "right" to emit nitrogen and sulfur-oxides based on their historical emissions. Firms that come in under their allocations, usually by installing special filters on their smokestacks, can sell unused credits on the open market just like a common stock on the New York Stock Exchange. Outfits that need credits can buy them. Almost anyone can trade RECLAIM credits and, until recently, there were relatively loose reporting strictures.
While there has been debate between federal and local officials about how effective RECLAIM has been, the $50-million-a-year market has presided over a steep reduction in the smog-forming oxides. The market underwent its first real tremor during the California energy crisis of 2001 and 2002, when Gov. Davis ordered power plants to operate at peak levels and they scrambled for credits to stay in compliance. Credit prices, once a few cents on the dollar to emit a pound a smog, skied to the $40-60 range, thanks largely to the presence of out-of-state traders who purchased vast blocs of credits knowing many were desperate for them. (Unlike profit-minded traders, brokers earn commissions by matching buyer and seller.)
Sholtz tried riding to the rescue during that price run-up by proposing that all RECLAIM trades and market data be relocated to a centralized, real-time website instead of scattered among the players. Most assumed she would have run this system, but the AQMD board rebuffed it. Had it not and Sholtz fallen into the same troubles she's in now, the situation would be much stickier, most agree.
"That would have not been good," said Jane Carney, the state Senate's appointee to the AQMD board. "There are remedies that defrauded people have against the person who wrongs them. They should pursue them. I don't see this (situation) suggesting there should be a clear policy change."
Since the energy brownouts, the district has forced RECLAIM companies to accelerate their retrofitting plans and tightened reporting requirements. Prices have returned to pre-crisis levels, too. It's the Anne-Sholtz-effect that has lingered.
"People you have done business with for a long time things are the same," said one prominent broker who spoke on the condition of anonymity. "Those that haven't have clearly heard the stories about her. They want payment upon receipt of credits. They need financial assurances."
Mieras, the AQMD prosecutor, wrote the board that the $150,000 was needed because the cases involve "voluminous documents, numerous witnesses, and extensive violations." The potential civil fines, he added, are expected to "more than offset legal costs."
With the latest money infusion, the AQMD has set now aside $500,000 to spend on private-sector lawyers helping it with various environmental cases. The law firm of Woodruff, Spradlin and Smart was selected to receive the $150,000.
Only all the major claimants, energy companies Aera Corp. and Intergen North American are the only ones who have spoken up.
A nearly identical version of this story appeared in the Pasadena Weekly. Copyright Chip Jacobs