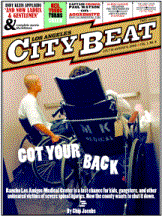 Some foods pack fats, others engorge the soul. Alvaro Morfin's gooey dish of chicken Parmesan accomplishes both, bubbling with mouth-watering red sauce and a pinch of hope not always stocked around here.
The former-East L.A. homeboy aced his assignment to prepare the meal, just as he has his entire crash course on adjusting to life as a paraplegic, and the doctors and therapists caring for him regard it as proof his talents can carry him anywhere his deadened legs can't. Take a whiff of his fare, the staff exclaims. They're drooling over it.
County-run Rancho Los Amigos Medical Center pines for these moments.
Parked in his wheelchair in a classroom-kitchen for the newly disabled, Morfin, 18, blanches at all the fuss, nonetheless. He is proud, a might wary. Says he can't foresee a career under a poofy chef's hat. Computer repairs – now that grabs his imagination.
Collaring everyone else is the skinny kid's back-story, how he was supposed to be the exception to the tired story of wayward youth stumbling toward oblivion.
He'd lived with a foster family after getting into minor drug trouble. Removed from it, he'd earned honor-roll grades at Optimist High School Senior and kept his distance from gangland temptations. Back home this summer, though, on a night he lives with everyday, old habits resurged and he was ambushed when he just wanted to party. A bullet fired by someone whose face he never caught ricocheted off his spine.
That's why he's at Rancho.
"Me cook?" Morfin deadpans, his dark, brown eyes swooping the room. "No, I'll get a girlfriend for that. I plan to go home" pretty soon.
Irene Gilgoff, the boy's physician, gladly swallows the un-PC remark as if it were his succulent chicken. Over her career, the diminutive, gray-haired physician has treated 150 juveniles who lost sensation in their bodies because of gang firefights and crummy timing.
"There's a lot of hope for him," Gilgoff said smiling. "He recently went to the movies and noticed girls noticing him. That was big. (Others like him) go out with such rage."
Dotted over 220 acres in the gray, lunch-pail city of Downey, the Spanish-stucco buildings here give way to creaky barracks, which yield to shady courtyards. They segue to the only blatantly modern edifice here: the tan-colored Jacquelin Perry neuro-trauma rehab building. You'd never know from this sleepy tableau that Rancho grips a world-class reputation for research and care of people with devastating spinal cord and brain injuries.
Neither is it obvious the facility itself is on the ventilator, not unless you spot the "Save Rancho" signs wedged in a few windows. In January 2003, the Board of Supervisors voted to close it because of the $60-million-a-year drag it adds to a county health-department deficit, a deficit estimated at $709 million over three years. Unlike previous shortfalls, there's no late-minute federal bailouts expected this round. A sense pervades that Rancho is expendable amid L.A.'s teeming emergency room and dead-bolted community health clinics.
Only an injunction by a federal judge in April prevented Rancho's doors from being chained. One non-profit out of Chicago inquired about administering the hospital so the county could lease indigent services from it, but everything rides on the courts.
Barring any late-hour deals, the spinal-injured will be referred to the county's four general hospitals, none of which specialize in spinal-cord rehab or related complications. Disabled advocates predict doing that will rain down misery among society's most vulnerable and cost taxpayers big in the long run.
"Nobody wants to close Rancho," said health department spokesman John Wallace. "We just have too many uninsured in L.A. County."
ON THE WARD
Folks are usually shipped here after they've been patched up at other hospitals from whatever laid them out. It's Rancho personnel who must teach them to monitor parts of themselves numb to the touch and, sometimes, dead to everything else. They will be schooled to insert their own catheters and how to guard against kidney infections. They will be lectured to shift legs and butts they can't feel to prevent pressure sores — the common cold of the wheelchair crowd — and absorb dozens of other tips, caveats and shortcuts about L.A.-life from the seat of their pants. Many will be operated on and many, many will return.
The spinal cord — where the brain's instructions to breathe, walk, reach, procreate, disgorge waste and myriad other functions are transmitted via electric impulses — is reliable and brilliant. It's just not terribly forgiving of abuse.
Despite the promise of cures offered by stem-cell research and other neurobiological glimmers, restoring the central nervous system after a wicked jolt is proving to be trickier than some researchers thought six years ago, when actor Christopher Reeves vowed to shake off his paralysis. Even the use of emergency-room steroids to minimize spinal-nerve damage is being revisited.
Think it's a tiny clique affected? There are 450,000 people with spinal cord injuries in America today, thousands of them in Southern California. Just on an outpatient basis, Rancho sees 75,000 patients annually as a sort of the Wal-Mart for the disabled.
There are clashing auras about these grounds, grounds that trace to 1888 when a steam locomotive offloaded the sick and Rancho operated a full-blown dairy to sustain itself.
Since then, doctors have trail-blazed polio treatments, back-fusion surgeries and the "halo" traction device that is the gold standard around the world. (Rancho, one of 18 designated regional spinal cord centers in the U.S., is currently part of a national study for paraplegics relearning stepping motions via treadmills.) Hospital alumni have achieved the seemingly impossible themselves, from quadriplegic skydiving to exquisite mouth-brushed Expressionist art that fetches top dollar.
The wards also reflect something less inspiring: the unrelenting "drive-by" culture of L.A.'s urban warfare and the vast swath of people with little or no health coverage at the low point of their lives. Gunshot wounds are the weapons of common destruction here. They are easily the number one cause of spinal injury with car accidents second – a ratio flip-flopped nationally. Thirty percent of the patients are indigents, the majority of others on Medical or Medicare.
So, unless you have a private insurance card, you're coming to one of the 207 beds here. If a bullet nicks your spinal canal, welcome to your new digs. If your cervical vertebra is compressed on a chain-reaction car wreck, meet your nurses. Should you, on a catastrophic scale, misjudge your ocean dive, jack-knife your motorcycle, get thrown from a horse, trip off a roof, blow your acrobatic landing or develop a compromised spinal canal through no fault of your own, there's a good bet the rest of your life starts at Rancho.
On your back.
Spend a day here as an outsider and the halls stays with you. Take this day. Outside the weight-lifting room, where wheelchair-shoving biceps are summoned from flab, an adolescent clothed in gangsta Oakland Raider gear propels himself stomach-down on a gurney, staring strangers down. Nearby, but a world away, a kindergarten-age little girl clutching her rag doll rolls by in an electric wheelchair with an exhausted nurse in toe.
Within shouting distance of them a firebrand, Middle Eastern-born surgeon talks about treating foreign nationals and diehard Angelenos. Ask him about ex-patients and he wonders aloud about the man who relocated to Texas to escape gang vendettas.
GO BACK, JACK, AND DO IT AGAIN
Michael Scott, 40, a soft-spoken disabled specialist with a Zen-like mien and Stanford University pedigree, is hearing the lowdown during morning rounds from an exotic-looking female medical resident.
The first patient is a 27-year-old man with multiple gunshot wounds that damaged the middle portion of his spine. He'd been shot before, but odds are he won't regain use of his legs this time. Originally treated at Martin Luther King Hospital emergency room, he is glum about his prognosis and still carrying the bullets that nailed him.
The next patient, a 35-year-old Hispanic man, was shot three times in June. Unlike his ward-mate, he is expected to walk. Still, he has problems – heart problems, hepatitis problems, mood problems and drug problems. The intricate tattoos adorning his chest gyrate as he writhes in bed. He complains his circulation-aiding socks give him rashes.
Scott predicted the man would be returning to the same "difficult condition" that put him here once he's hale enough to leave. It's a common dilemma for gunshot victims.
"They're more vulnerable in a chair," Scott quips. "They're not going back to Beverly Hills."
It's just about then a toothy African American man in his mid-fifties breaks the somberness. He wheels up the hallway wearing a loud blue-plaid Fedora and matching shorts, inquiring merrily about a nail clipper. He says his toenails "look like tiger claws."
"They're great docs," the man offers.. "But the therapists! They're trying to kill me."
With that he rolls off.
A Latino mother of four is the last patient checked. She was ejected from her van during a May highway wreck because she wasn't wearing a seatbelt. The impact dislocated the most sensitive part of the back – the cervical spine. Upright in a wheelchair, looking content as can be, she reports in Spanish she has nothing negative to report.
"She never complains," says resident Sheila Patel, "If there are any problems, I have to find out through my sneaky ways."
Rancho's adult physical therapy room, a cavernous space with electrical outlets that dangle from the ceiling over a mishmash of gizmos that attack weak muscles and lost coordination, feels like a gym. A patient grunts and a young female therapist cheerleads, "Good job!" Sweet beads and repetition grinds on. What a split-second mishap stole from many may require months laboring here to restore.
The losses seem overwhelming. Off in the corner is a listless burn victim with a bandaged stub where his hand used to be. Ten feet away is a sheepish-looking car-accident survivor with a chest brace and deep facial scars. He doesn't walk as much waddle on the beige-and-white floor, but that's not his only setback. Hyperextension injuries like his jam nerves controlling the arms, which may never regain full strength and range. A paradox of the limbs results: some patients post-accident are nimble enough to dribble hackeysacks with their feet yet are unable to wash their face.
The spine can baffle. People can fracture their vertebrae without suffering neurological damage and be fine because the cord itself isn't damaged. The opposite can be true, too. The worst off tend to have sustained nerve death. As a general rule, the higher up the spine it occurs, the more devastating the loss of function below. Sometimes, only the myelin sheath, the insulation-type coating around the nerve is hurt, and it – unlike the nerve– can regenerate.
Time is the arbiter. Whatever sensation returns after nine months from the point it was lost is typically the best it will get.
"It's a life-changing injury," Scott says. "(Patients have) lost the person they used to be."
Rancho doctors as a result often simultaneously have to play healer, psychologist, social worker and salesman of hope. Aspiring MDs are instructed to look beyond garden-variety complications such as embolisms and spastic limbs that can toss people from their wheelchairs and toward the psyche.
A patient's background often dictates their recovery chances. People with tight knit families and established roles as breadwinners or guardians fare comparatively well. So do the religious. Another thumbnail rule: the younger the victim, the quicker the acceptance of what's befallen them.
Some demand their prognosis immediately. Others say hold off. Type-A personalities chomping to reclaim their old mobility can flame out emotionally. Oddly enough, a quadriplegic (someone with no use of their four limbs) on a respirator can be more at peace than a paraplegic (someone with no use of their legs.)
"We've had a few dramatic cases where people with no movement in their legs walk out of here," Scott explained. "Even for those with a poor prognosis, hope means different things. I've had some (gang) patients say: 'This is the best thing that could have happened to be. If I weren't paralyzed, I'd be dead.'"
BEYOND GANGLAND
For image-conscious administrators, talk of Rancho's gang caseload is the one that furrows their brow, one they believe the media has sensationalized. Yes, there are Blood and Crips here, they acknowledge. Yes, there are baggy-pants-wearing hommies. But it's not like there are bullets flying in the hallways.
Scott and other physicians don't duck the same subject, perhaps because they can't. It's county politics they'd rather not touch publicly. Just like the strapping firefighter who tore his spine falling off an all-terrain-vehicle, every chart they review bristles with heartbreak, they say.
Rancho doctors have occasionally treated a gang member left a paraplegic after one shooting only to see him return as a quadriplegic after a second incident.
Sometimes it's worse. Roughly ten years ago, a Hispanic teen paralyzed by a gunshot wound and treated at Rancho was handpicked to appear on an ABC-network special about adolescent violence. The roundtable show, "Kids In The Crossfire," was broadcast from a Washington D.C. high school. Several dozen kids and various luminaries, including then-Attorney General Janet Reno and actor Chuck Norris, attended.
After the program, the former patient vowed he given up his street ways. A rival faction back in L.A. wouldn't abide that promise. Within a year of the show, they ran him down in the street as he sat in his chair and whipped around and shot him to ensure he was dead.
"It was a tragic statement about society," said a Rancho doctor, who asked his name not be used. "It's happened on too numerous an occasion."
Owing to a few harrowing incidents, Rancho has enshrined rules to keep street frictions outside its doors. Some gang patients are assigned aliases. No tribal colors or paraphernalia are permitted on site. Guards are also stationed around the buildings, though a hospital spokeswoman insists it's mainly to dispense directions. Nonetheless, staffers here know that Saturday is the busiest day for spinal gunshot wounds, summer the busiest of the seasons for them.
"When I came here 20 years ago, there were a few patients with gunshot wounds," Dr. Gilgoff recalled. "Today we get quite a few. Now there can be multiple paraplegics in the same gang. I've had patients with five-six bullet wounds and you realize it's because semi-automatic weapons are in play."
History has taught that pent-up rage is often best diluted with another impulse. Young men from ragged environs, where gang camaraderie can be more solace than family, need a scorch pad to burn anger, and sports has shown it can burn it productively. Hence, the hospital has an extensive wheelchair athletics program, and a bursting trophy case to prove it.
There is basketball, baseball, tennis, and hockey, where getting knocked out of your chair can be a badge of honor, and a magazine – Sports N' Spokes – devoted to it.
The athletics, sponsored by a Rancho support group, have two non-negotiable stipulations. To participate, patients must be in school and clean from drugs.
"They've gotten more out of sports than anything," says Gilgoff. "Of the 150 gunshot victims I've treated, only about four of them, I thought, should have been incarcerated. The other 146 were young men in the wrong situation. With the right assistance" including sports, "they do really well."
Who knows where Alvaro Morfin would be if hadn't been for one epically bad decision?
His storyline is a common one. His mother raised him after she and his dad, a taxi driver, separated. Morfin didn't join a neighborhood gang for sheer mayhem. He joined, he said, because "you don't have nothing else." A couple years ago he was busted on a marijuana charge and sent to live with a foster family. During that time, he said, he earned straight A-s, excelling in history, and straightened himself up.
All that willpower buckled this summer back home in East L.A. His friend stole a $1,000 and persuaded Morfin to come party with him. The two sped off on bikes. They pedaled to another pal's house to convince him to join them, and that's when a car carrying a rival gang made a menacing pass. Morfin expected a fistfight, and wasn't about to shrink from it.
He misjudged intentions. Someone from the car pointed a gun at him and began firing wildly. Morfin tried throwing his gangly frame over a wall to get some cover, but the shooter found his aim. A bullet clipped Morfin in the side, hit his spine and exited from his ribcage. He took a final few steps and dropped.
L.A. County General was the nearest emergency room. He hated it there, nervous about being probed, wondering why it took two hours to get pain medication.
It's been his stay at Rancho where he regained his bearings. He connected with everybody, janitors among them, and learned arm thrusts and cooking. Those new skills developed side-by-side with epiphanies that cost him so much.
"I have to push my (old friends) to the side," he says, struggling to tamp down the lump in his throat. "I can't walk like them (anymore). I came to realize that my family members are my real friends … I had alot of chances before and my luck ran out."
Luck will be immaterial to his graduation from Rancho. On a typical day here, he showers, attends occupational therapy, then physical therapy, rests for an hour, goes to class, eats lunch, hits the weightlifting room, practices wheelchair transfers and finally gets dinner. To unwind, he fancies Playstation ("Grand Theft Auto "is his favorite game) and watching the Angels, which he seems to know more about that skipper Mike Sciossia.
Fixing pressure sores — wounds that result from pelvic-area bones breaking down skin tissue strained from too little circulation — is one of Rancho's fortes. These ulcers can begin the size of a dime and expand to the width of softball. An entire 25-bed surgical ward is dedicated to them. Without any sensation down in their legs or butt, patients have to sleuth to detect lesions and always remember to rotate themselves if static for too long. It's tiresome.
ALL NEIGHBORHOODS, ALL COLORS
Dr. Salah Rubayi, an Iraqi-born surgeon with a rapid-fire tongue, makes it his life's work operating and dealing with these inflamed buggers. Even the most conscientious get them. Once they do, there is 47 percent reoccurrence rate. People can develop fatal blood infections if they are left untreated.
For Rubayi, the premise the county's general hospitals could master this specialty should Rancho go under is absurd. It can take 12 weeks to recover from an $80,000 bedsore surgery. In typical cases, the wounds are covered with flaps of muscle exported from the same area as the wound. In extreme cases, when there is no more muscle to scalpel, doctors have to filet a patients' thigh and fold it back over the butt. Wound closed, they live legless.
"Why is Rancho better?" Rubayi said. "We are more rigid with our protocols and dedicated to this injury. We admit patients quickly. We didn't develop this by chasing the big money."
Sam Morris, a blonde-haired, guitar-playing paraplegic who traveled to L.A. from Maine to rehab with a movement specialist, opted for Rancho when a local private hospital twice bungled efforts to heal his pressure wound. Morris is in the minority of patients here with private insurance. A friend told him that Dr. Rubayi was "the best in the business," and had trained other doctors how to do the flap surgery.
"In hindsight, the whole experience at the other hospital was ridiculous," said Morris, 27. My (first surgeon) "confused confidence with arrogance."
If you think it takes a cataclysmic bonk to disrupt the spine's genius, you haven't met 8-year-old Nelly Benarbashian, a patient in Rancho's pediatric ward. Today a smiling Spongebob Square Pants blanket covers her hospital bed. The little girl can wolf down Taco Bell burritos and do coordination-building puzzles with quiet gusto.
That ordinariness is what people have prayed for.
Nelly's descent to Rancho began last spring at Hazelton Elementary in the San Fernando Valley, where she complained to the school nurse about a sore throat. Hours later, at her bus stop, she collapsed into her mother's arms, and was whisked to an ER in Northridge. She could barely breathe. Her limbs went numb. "Mommy," Nelly wheezed, "I'm dying."
Doctors diagnosed her with "transverse myelitis," a puzzling, viral-like condition where the spinal cord swells up and shuts down parts of the body. The Northridge doctors stabilized her, inserting a ventilator and getting her situated in a wheelchair. Afterwards, they transferred her to Rancho because they lacked the know-how to do much more.
"When she first got here, she had a trachea tube and a (feeding tube)," said Nelly's mom, Maral. "Her left foot could only wiggle. I was scared. The therapists got her walking. Without Rancho, I don't know what I would do."
Nelly can walk again. Most who come here won't. To lead them back to a civilization not always as accommodating as those blue handicapped parking spaces, Rancho has set up a "model home" that looks as if it was thought up by Aldous Huxley. There are gadgets that robotically turn pages, rotate plates and operate spoons. Counters move up and down on a lift, and showers and sinks are free of obstructions. Patients are brought to the house to mull their options, even if they can't afford all of them.
"I tell patients that I'm teaching them how to be on a barge," said therapist Barbara Phillips. "There were dropped off here (by their accident), so how do they get there?"
This version is nearly identical to the one that appeared in L.A. CityBeat. Copyright Chip Jacobs