Strange As It Seems: The Impossible Life of Gordon Zahler

* CLICK THE SAUCERS ABOVE FOR COOL, SUPPLEMENTAL INFO.  Amazon / Rare Bird Books / SEE SHORT SUBJECT DOCUMENTARY AT BOTTOM OF PAGE

ROLLED & BOLD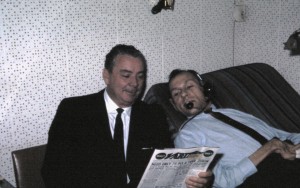 After a wildfire torched the piano his grandfather played throughout his Hollywood career, journalist Chip Jacobs began asking questions, soon realizing he'd been raised in mystery. Until then, he'd been told little of the kin whose bloodier moments, strange misadventures and improbable conquests had lingered in the shadows his entire life. His obsession to pull back the curtains led him to eventually quit his job as a newspaper reporter and pen a biography focused on a particular relation he once couldn't stand: his maternal uncle. 
Gordon Zahler had been a fun-loving prankster, a live wire kid with a tremendous future, when he shattered his neck at fourteen in a horrifying gymnastics fall at a Pasadena, California junior high school. The highly publicized accident in the months before World War II nearly decapitated Gordon, landing him in traction at Los Angeles County General Hospital, where doctors gave him a one percent shot at survival. While touch-and-go for months, the plucky boy from Sierra Madre survived, but not without effectively bankrupting the family, torpedoing his sister's college dreams and obliterating what had been a peaceful existence in the shade of the San Gabriel Mountains. Gordon's father, Lee, a prolific Hollywood composer for Columbia Pictures and a raft of independent studios, died from brokenhearted stress in 1947, and the Zahler's only remained off the streets through welfare furnished by the Motion Picture Fund. Things were grim. After the splashy, downtown L.A. murder of Gordon's mother's' younger brother, a former director who'd been there with Carl Laemmle at the dawn of Universal Pictures, it even felt gothic.
Paralyzed from the clavicle down, more committed to clubbing with his hooch-swiling buddies than figuring out what to do with his life, Gordon, after one humiliating incident, decided he'd had enough. Beginning in the late 1940s with his father's music, the handicapped ninth-grade dropout racked up his first soundtracking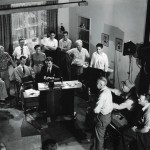 sales to the burgeoning world of television. After establishing himself on an MGM-Doris Day rom-com (and learning sound editing on fifties sci-fi movies) he was on his way! Rarely had showbiz seen a more peculiar trajectory.
Despite a wonky biology, Gordon by the early-1960s's was running one of the largest, independently owned post-production houses in Hollywood. Among its TV and film credits were: 26 Men, A Tunnel of Love, Plan 9 From Outer Space, Popeye the Sailor, The Ann Sothern Show, Cavalcade of America, The Red Skelton Show, The Phantom Planet, Bozo: the World's Most Famous Clown, First Spaceship on Venus, Shock Corridor, The Navy vs. the Night Monsters, The Woody Woodpecker Show, Tarzan, Journey to the Center of the Earth, Daktari, Cowboy in Africa, Gentle Giant, Pippi Longstocking, The Daring Game, The Pink Panther Show and the Golden Globe winning Animals Are Beautiful People. During this career, Gordon partnered with Walter Lantz and Ivan Tors. He worked with Sam Fuller, Roger Corman, Russell Hayden, Hans Salter, and, yes, even Ed Wood, Jr. despite him still owing him money; he rubbed elbows with Sidney Sheldon, Jerry Lewis, Mel Blanc and John Banner. Most regarded as him as most interesting character on the lot.
In his off time, the Hollywood entrepreneur/idea man was determined to wring the marrow out of his abbreviated time on earth. He visited exotic, sometimes dangerous locales from Lebanon to Nairobi, Havana to Tokyo. He married a beautiful blonde stronger than her willowy frame. He fantasized about water-skiing and flying lessons, adored safaris and deep-sea fishing, and couldn't get his fill of reckless maritime shenanigans on his power boat. At his sleek house on Blue Jay Way above the Sunset Strip, not far from where Beatle George Harrison once rented a home, his oft-celebrity-filled parties were legendary, his storytelling something to experience. (Famed African American architect Paul Williams designed the residence specifically for his client's picky, if unique requirements.) When not working the entertainment side of his brain, Gordon was forever hustling to dream up or nail down deals for ahead-of-their-time concepts — narrated books on cassettes, talking gas station pumps, personal information devices and what not.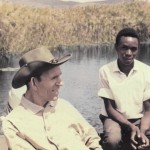 In his last years, Gordon chased a different sort of dream than producing a blockbuster movie or owning a vertically integrated studio. He marshaled his indomitable energy into becoming the father of South African television, damn near pulling it off, too, believing it could make him rich while equalizing the races. By the time he died, Gordon had packed so much into his 49 years, high stepping it by the seat of the pants, that the world was flummoxed trying to describe him. Which is just how he he wanted it.
Strange As It Seems is Gordon's improbable life, as told by the nephew who went from fearing his presence to gaping at his star.
– 
PRAISE  – 

"Jacobs … is an exceptional storyteller, and his lively look at the extraordinary career of Gordon Zahler … is a peculiar page-turner. Zahler, the author's uncle, achieved success on the margins of show business despite a spinal injury … Jacobs … craft(s) an imaginative biography about this unusual figure, who carved out a distinct place in post-WWII Hollywood by repurposing the music of his father, Lee Zahler, a prolific film composer. Along the way, readers meet a colorful cast of characters, including animator Walter Lantz, actor Burt Lancaster, and fringe film directors Ed Wood Jr. and Samuel Fuller. Zahler's life was filled with difficulties, but Jacobs refuses to frame his cantankerous uncle as a tragic figure and cleverly uses his story to expound on the larger history of his family. This fast-paced account of a life lived to its fullest is a triumphant tribute …" — Publishers Weekly

"Family memoirs are rife with grandiose tales of triumph over adversity, and while it would be easy to dismiss Jacobs' portrait of his unorthodox uncle as another such unvarnished encomium, his professional background as an award-winning investigative journalist for The Los Angeles Times, LA Weekly, and CNN prevents this from being so. With both dramatic flair and detached fairness, Jacobs eloquently reveals the soul of a charismatic and courageous character. Had Gordon's career taken place on the screen instead of behind it, he would have been the Christopher Reeve of his day." — Foreword magazine (5 stars) *

"An exceptional account of an exceptional man, "Strange As It Seems: The Impossible Life of Gordon Zahler" is a deftly crafted, inherently fascinating, thoroughly riveting read from first page to last .. An informative, astonishing, and occasionally iconoclastic narrative study that will prove to be an enduringly popular and much appreciated addition to community library (of) American Biography collections" – Midwest Book Review

*"This amazing book is all heart …Chip Jacobs blends the skills of an investigative journalist, the glitz of Hollywood, and the smooth storytelling of fiction to weave a profile of his larger-than-life uncle that will leave you crying, laughing and gasping in wonder, often on the same page. Bravo!" — Denise Hamilton, Bestselling Author of Los Angeles Noir and Savage Garden *

"Everyone loves an underdog—and Gordon Zahler, … Hollywood Zelig, and eventual music supervisor of Plan 9 from Outer Space, would seem to be the perfect Boy Alger. Zahler … transmut(ed) the strange horror of physical incapacity into nimble, devilish celluloid miracles …  Zahler's life was a carnival of mettle, the merging of a Muzak sensibility and an indefatigable, preposterous will to live. In B-movie screenings, as in heaven, the man will endure, unapologetic, undead." – Film Comment

"… amazing … Just how does the class clown face death-defying odds … making Hollywood productions and achieving a dizzying amount of fame during the process of shooting films and even marrying? Jacobs captures the turbulent ups, downs, successes and failures of a life well lived in a biography which is vivid, exciting, and thoroughly engrossing." — The Bookwatch

"Never a book has taken you from laughing to crying within the same page. The book unites two talents: the one of Mr. Jacobs and one of Mr Zahler. And it's not a coincidence that both are related … The style of Mr Jacobs is, as always, very eloquent, passionate and yet entertaining … sweating of intelligence. For this amazing life, you'll have an amazing book. Read it, you won't be disappointed." – The Culture News

"If you are determined to title your book Strange As It Seems, you damn well better deliver. Chip Jacobs does that and more in a loving, funny and well-written biography of his late uncle, Hollywood musical legend Gordon Zahler." – Bob Andelman @ Mr. Media

" … Strange as It Seems … not only details all of facets of Gordon's improbable career, but his private life as well, including marriage to Judy, who comes across as a chain-smoking saint in the narrative, his relationship with various friends, cronies, and underpaid assistants, and his ability to live a life that some of us with all our workable limbs can't match.  A terrific read and one of the best (hopefully movie-inspiring) books of the year. Highly recommended." – In the Balcony 

"Here is a remarkable tale of Hollywood history that sheds light on the man who provided the music for several TV cartoon series of the 1960s – not to mention the infamous Ed Wood feature Plan 9 From Outer Space … Author Chip Jacobs was Gordon Zahler's nephew and he throughly traces his uncle's incredible career – which included providing music to numerous animated series including the King Features TV Popeye's, Filmation's Superman and Larry Harman's Bozo (to name but a few) … It's a fascinating read." – Cartoon Research

"Gordon Zahler isn't a member of the Hollywood A-list, but he certainly hobnobbed with many of them … Author Chip Jacobs … explores the man he only knew from a distance … Zahler's story is a true tale of hard work and chutzpah … and leaves the reader to make up their mind on whether he was brilliant or just lucky. Zahle's story truly lives up to its title." Cinema Sentries/Journey in Classic Film

" … In finishing this masterfully written biography, I came away thinking that Gordon Zahler, may well have been the original poster boy for the word Hudspeth.  Strange As It Seems is Twilight Zone Strange but all true and comes highly recommended." – Steve Hodel, New York Times Bestselling author, Black Dahlia Avenger

"…  Gordon put the American Dream to the test, pushing the boundaries of what is possible if one simply puts his mind to the task. Chip Jacobs infuses Gordon's story with crisp dialogue and poignant observations … delivering a delightful Man Against Nature tale that has you riveted to the page. You can't find a better writer … for this type of storytelling. I didn't want the book to end, and when it did I felt like I lost a good friend. This is a story worth telling, and a book worth reading. Proof that Jacobs is a powerful voice whose work will stand the test of time." – Stephen Jay Schwartz, Bestselling Author of Boulevard and Beat

"Readers looking for a glamorous Hollywood story or a tale of gentle uplift should be warned: This is not that book. Instead, Chip Jacobs has written something far better — a witty, clear-eyed account of a charming and utterly impossible man whose ferocious willpower transformed his personal nightmare into a lifelong Technicolor hallucination." — A. J. Langguth, Bestselling author of  Patriots, Our Vietnam and others *  

FDR's body and Sammy Glick's brain? No, but close – and better. Mon Oncle d'Amerique has nothing on Chip Jacobs' Mon Oncle d'Hollywood, the picaresque, quadriplegic Gordon, who is at least as good a story as anything he helped to put on film … Gordon is a premiere citizen of Hollywood As She is Spoken — unsentimental but believing utterly in the art of the possible." — Patt Morrison, award-winning Los Angeles Times columnist and author *

"Though not about a celebrity or newsmaker, this life being told by Chip Jacobs is an extraordinary one in the history of Hollywood. The raw courage and almost unbelievable stamina of Gordon Zahler – abetted by both love and luck – turns this irresistible biography into a page turner." — William Robert Faith, author of Bob Hope: A Life In Comedy *

Strange As it Seems (Biography) –   Indies Awards Finalist

Silver Medal (Biography/Autobiography/Memoir) – Pacific Rim Book Festival

Prime pick – California Bookwatch


* Reviews from earlier versions 
– 
RECENT MEDIA  – 

— A Strange As It Seems Intersection of Film and Music – Video Interview by Mr. Media as hosted by Bob Andelman 
— Interview with Cyrus Webb – Blogtalkradio podcast
— "In Conversation with Jerry Rosenberg, author of No Man Is An Island" – Rare Bird Soundcloud podcast
— "Truth Is Stranger Than Fiction" – Life Elsewhere podcast
— "Bloodline: Are Our Ancestors Experiences Imprinted in Our DNA?" – Pasadena Weekly
— "Stranger Than Fiction" – Pasadena Weekly 
---
DOCUMENTARY SHORT SUBJECT BY 14-FILM