Smogtown: the Lung-Burning History of Pollution in Los Angeles

* DUST JACKET *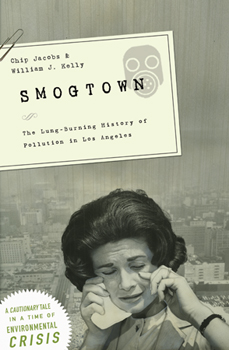 "The smog beast wafted into downtown Los Angeles on July 26, 1943. Nobody knew what it was. Secretaries rubbed their eyes. Traffic cops seemed to disappear in the mysterious haze. Were Japanese saboteurs responsible, a reckless factory? The truth was much worse—it came from within, from Southern California's burgeoning car-addicted, suburban lifestyle.
Smogtown is the story of pollution, progress, and how an optimistic people confronted the epic struggle against aerial poisons barraging their hometowns. With wit, verve, and a new look at history through never-before-compiled sources, it highlights the bold personalities involved, the corporate-tainted science, the terrifying health costs, the Buck Rogers-like attempts at cleanup, and how the smog battle helped mold the modern-day culture of Los Angeles. There are scofflaws too and plenty of dirty deals, plus murders, suicides, spiritual despair, and an ever-present paranoia about a mass disaster.
With Southern California still the air pollution center of the planet, Smogtown is at once a cautionary tale for those who think global warming can be easily tamed. It holds lessons to be learned, many about the intractability of human behavior and culture itself.
Brimming with historic photographs, forgotten anecdotes, and new revelations about L.A.'s murky past, Smogtown is a journalistic classic for the modern age."
 * REVIEWS *

 

— "[A] remarkably entertaining and informative chronicle of the birth and—so far—inexorable evolution of smog… This book is just amazing, a gripping story well told, with the requisite plucky scientists (including Arie Haagen-Smit, a Dutch biochemist who was "the Elvis of his field"), hapless politicians, and a nebulous biochemical villain who just will not be stopped." —Booklist (Starred review)

— " … Chip Jacobs and William J. Kelly demonstrate that our current air quality is a free-breathing dream compared to the nightmare that enveloped the city for a good portion of the last century … Jacobs and Kelly bring a combination of alt-weekly sensibility and public service gravitas to their account. Evidenced by chapter titles like "Bouffants & Stethoscopes" and "The Wizard of Ozone," the authors apply humor to a grave subject … the book is not lacking in historical heft. Instead, style delivers substance in true Hollywood fashion, with character-driven plots draped in glamour and sensation … the history of smog has never been so sexy …" — Los Angeles Times

— "This colorful history of smog in Los Angeles begins in the 1940s and ends with a warning call for action. Self-proclaimed "survivors" of "L.A.'s greatest crisis," journalist Jacobs …and California Energy Circuit senior correspondent Kelly …draw on newspaper articles, scientific case studies, policy books and oral-history archives to dredge up the story of smog in all its hazy—and sometimes humorous—permutations … the authors offer a zany and provocative cultural history." — Kirkus

— "Finished with a particularly powerful, forward-looking epilogue, this friendly, accessible history should appeal to any American environmentalist." — Publishers Weekly

— "… a meticulous chronicle of the city's signature airborne grime and of the civic and social forces that emerged to stop it … describes a decidedly dreary Los Angeles: Patio furniture fades, flowers die, and a man's coral-colored tie turns bluish-purple over the course of an afternoon–all due to the smog that rolled into the city quite unannounced one morning in 1943. "The blocked skies," write Jacobs and Kelly, "were tantamount to acne on a beauty queen"… the authors toss in a dose of gallows humor and a light brushing of melodrama … it's hard not to laugh when imagining Joe Friday intoning, "Deep within Disneyland in Anaheim, California, stands Tomorrowland." But the point of Smogtown is well made: that the truth really is inconvenient …The story of Smogtown is that of a city vying against time to reconcile incommensurables … " — Bookforum

— "The narrative that emerges is more than a tale of a region and a populace besieged by smog; it is also a parable for a nation beset by environmental and social problems … Among the pleasures of this well-researched cultural history is revisiting the past by way of old newspaper articles and archival material, which expose both hapless guesses and dogged persistence on the way to smog literacy." —Slate

— "Writing in a hip, lively style, [Jacobs and Kelly] recount the efforts of city and state officials, governing boards, scientists, and citizen groups to rid L.A. of the smog with a can-do spirit and an unlimited faith in science, technology, and human ingenuity …[An] intriguing social history of an environmental problem that won't go away. Recommended." — Library Journal

— – "A climate classic … a remarkable … exposé and memoir about air quality, politics and health in Southern California's smog belt" — ChinaDialogue 

— "… a well-documented, highly engaging, and widely relevant account of southern California's battle with "the beast," as the authors lovingly refer to smog. Placed firmly in the tradition of good old muckraking journalism … Despite its clear intention of making a case for environmental awareness and action, Smogtown is not your typical "green's" diatribe against big business and weak government. No, Jacobs and Kelly are much smarter–and fairer–than that in this book … The authors' historical story exposes the roots and rampages of smog, how a prodigious population explosion and growing consumption "essentially…turned nature against itself." — Sustainablog

— "… thoroughly entertaining from start to finish … It's a dramatic story, playing out like it was written for the screen, with clear protagonists and villains – and humor peppered throughout … a gripping tale that will keep you eagerly turning the pages …" – Earth First

—  … The earlier history in this book is entertaining and enlightening. In contrast with dry accounts of the decades-long struggle the auto industry waged to avoid emission limits, this book covers selected battles by focusing on personalities like Haagen-Smit and vendettas like the war waged on Detroit by Supervisor Kenneth Hahn for better pollution controls on cars. Its chapters make for great drama instead of dry documentary. Scientists, politicians, lobbyists and determined bureaucrats on both sides fight it out, while residents used to burning their trash and driving their cars suffer through smog alerts but are difficult to motivate … Smogtown is great reading because much of the history it covers is still unfolding today …" — Glendale Public Library

—  Smogtown miscellany: Marketplace Radio – LA Smog,  The Battle Against Air Pollution, KCET – "Breathe Deep and Then Thank the EPA that You Can", 710 Study San Rafael Neighborhood, Sunroom Desk, Daily Bulletin – "Battles Won But War On Smog Is Far From Over," Politifact.com – "Barrack Obama Said When He Went To College, The Pollution Was So Bad 'Folks Couldn't Go Outside," Press Play with Madeleine Brand: "Smog, TV Pilots, Errol Morris & the Future of Kobe," Los Angeles Times – "Beijing's Smog Makes Los Angeles' Air Look Good," Los Angeles Times – "China Seeks to Fight Smog by Brainstorm: All Ideas Welcome."
* AWARDS & ACCOLADES *

* Named one of 2008's best environmental books by Booklist magazine

* Earned silver medal for best non-fiction work at The Green Book Festival,

* Earned silver medal for best environmental/ecology work at the Independent Book Publishers (IPPY) Awards

* Earned Green Prize for Sustainable Literature, local impact award, from Santa Monica

* Recommended by Los Angeles magazine, Sustainablog and Kauai News

* Author appearances include C-SPAN Book-TV, the Los Angeles Times Festival of Books, the West Hollywood Book Fair, Authors@Google, the Coalition for Clean Air, KTLA Morning News, the Los Angeles Public Library ALOUD program and the Huntington-USC Center for California and the West.

* Author interviews at Op-Eds in the New York Times,  ABC Public Radio, "The Patt Morrison Show" (KPCC), "Deadline L.A. (KPFK), "The Jon Wiener Show" (KPFK), "Which Way L.A.? (KCRW), among others.

* Sacramento Bee bestseller

* Chinese bestseller.

* Awarded "Most Influential Book in China – 2014," "Best (English) Book in Mandarin – 2014" and "National Library Recommended – 2014" work. More details about these soon.
* Please visit our environmental blog at peoplesrepublicofchemicals.com