Bridge To The Past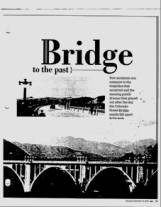 Few incidents can compare to the tragedies that occurred and the ensuing public drama that played out after the Colorado Street Bridge nearly feel apart
September 18, 2003
By CHIP JACOBS
Just past quitting time on Friday August 1, 1913, soot-caked construction workers pouring concrete into the highest arch of the future Colorado Street Bridge heard a bloodcurdling snap. Something that wasn't supposed to had torn loose. Hovering 150 feet above the Arroyo Seco, a lush view all around, the men felt their boots tremble. Seconds later, the walkway below them dissolved and a colleague hollered, "Jump!"
By the ungodly rumble, it was as if the entire structure was collapsing.
Actually, only a minor section on the San Rafael side had, but it packed a devastating wallop. When the mold for the top of Span No. 9 buckled, it created a thunderous pancaking action that snatched three workers – and almost eight more — in a violent, plunging mass. Hundreds of tons of wet concrete, scaffolding, man, and machine came crashing onto the floor of the valley, kicking up dust and pandemonium where there had been nifty organization before.
The boom ricocheted through the gorge, into the undulating, green hills of Busch Gardens (the "Eighth Wonder of the World") and the wood-siding of a tuberculosis sanitarium, then toward the storefronts along Colorado Street. Burly carpenters and concrete men rushed toward the cloudy pile. Above them, scaffolding weakened by the jarring dangled precariously over them. A lookout was later stationed to monitor what might else plummet.
Within half an hour, …
To read the full story of this incident, please buy my debut novel, Arroyo, historical fiction set around construction of this mysterious bridge. 
Indiebound / Amazon / Rare Bird Books
Dust jacket description: 
Set against two distinct epochs in the history of Pasadena, California, Arroyo tells the parallel stories of a young inventor and his clairvoyant dog in 1913 and 1993. In both lives, they are drawn to the landmark Colorado Street Bridge, or "Suicide Bridge," as the locals call it, which suffered a lethal collapse during construction but still opened to fanfare in the early twentieth century automobile age. When the refurbished structure commemorates its 80th birthday, one of the planet's best known small towns is virtually unrecognizable from its romanticized, and somewhat invented, past.

Wrought with warmth and wit, Jacobs' debut novel digs into Pasadena's most mysterious structure and the city itself. In their exploits around what was then America's highest, longest roadway, Nick Chance and his impish mutt interact with some of the big personalities from the Progressive Age, including Teddy Roosevelt, Upton Sinclair, Charles Fletcher Lummis, and Lilly and Adolphus Busch, whose gardens were once tabbed the "eighth wonder of the world." They cavort and often sow chaos at Cawston Ostrich Farm, the Mount Lowe Railway, the Hotel Green and even the Doo Dah Parade. But it's the secrets and turmoil around the concrete arches over the Arroyo Seco, and what it means for Nick's destiny, that propels this story of fable versus fact. 

While unearthing the truth about the Colorado Street Bridge, in all its eye-catching grandeur and unavoidable darkness, the characters of Arroyo paint a vivid picture of how the home of the Rose Bowl got its dramatic start.